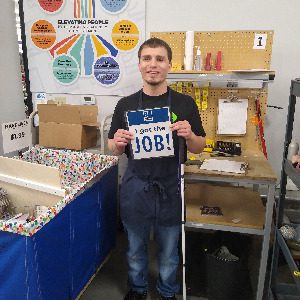 As a team member with visual impairments, James Randel relies on his other senses to help him do the work.
James, who said he is 100% blind, was hired in May as a part-time team member at the Antigo Retail Store and Training Center after starting with Goodwill NCW as a program participant through North Central Health Care. His temporary work experience was funded through the Wisconsin Division of Vocational Rehabilitation.
"When I first started, I was nervous with how this was going to go," he said. "Now that the barriers are eliminated, I'm not scared to try a new task."
James overcomes visual impairments
James has been successful working in the production area as a ticketer. He also works in salvage and cleans carts and changing rooms.
"It's pretty laidback. They keep me busy. I like the people. It's just a friendly environment. I try to give everything I can — 110%."
Brian Pond, Goodwill NCW Manager of Business and Partnerships Development, said James brings a positive attitude to the store and is willing to try anything he is asked to do. "I am super excited that he is now part of our team."
"James is great. We love him here," Production Team Leader Vicki Maclure said. "He works hard and when something comes up we can work with him to figure out the best way to solve it."
Balancing work with going to college for business, James hopes to become a store leader after graduation.