Eau Claire restorative conferencing is a process for people to have a safe and constructive dialogue. Restorative justice acknowledges that there are three parties impacted by a crime: individual victims, communities, and offenders.
Goals
The goals of Eau Claire restorative conferencing are to:
Support the healing process of victims by providing a safe and controlled setting to communicate with the offender; to ask unanswered questions, share the impact of incident on them and discuss what they need to move forward.
Allow offenders to understand the impact of their actions on the victim and to take direct responsibility.
Provide an opportunity for the victim and offender to develop a mutually acceptable plan that addresses the harm caused by the crime.
Give the community a voice in the process to help build a safer community.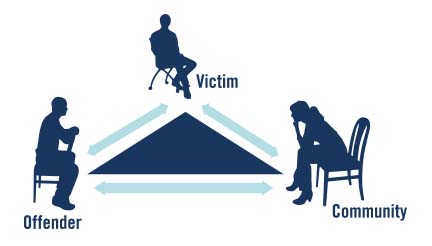 The Process
Each impacted person has one or more individual preparation meetings with a facilitator. In the preparation meeting, the emphasis is discussing the impact of the crime, identifying needs and preparing for the conference session.
Conference facilitators have a nondirective style, with the participants talking most of the time. All participants are continually given choices throughout the process, for example, when or how they would like to communicate or whom should be present. They may choose to decline participation at any time.
There are multiple ways parties can choose to communicate with each other at the final conference — in person, over the phone, through letters, by shuttling information between parties — any option that best fits the individual situation.
The conference is confidential, and each person is asked to speak in turn. Each participant can ask or respond to questions and share their experiences. As a result of the conference, there is often an agreement or plan for the future. Facilitators will monitor agreements and/or restitution plans and provide follow-up meetings if necessary.
Individual preparation meetings are about one hour, and final conferences are most often one to two hours.
Eau Claire County Restorative Justice requires a fee of $50 for adult offenders and $30 for juvenile offenders to participate in this program. Students referred to the program by a school administrator for a school infraction do not pay a fee.
Contact us if you have any questions or would like to know more.
Restorative Services
In some situations, a victim is unable to participate in a restorative conference. Through restorative services, individuals can process the impact of a crime by participating as an individual.
This process begins with an individual meeting with a facilitator. At that meeting, the facilitator and participant will agree to a further course of action.