Restorative Training for Schools
Using restorative practices in schools creates a culture of respect and fosters responsibility. Restorative practices in schools is based on the belief that students can learn to solve conflicts, be kind and compassionate, make wise choices and sincerely help others. Restorative practices in schools builds community, promotes civic engagement and reaffirms expectations for relationships. It is a structure for problem-solving that makes common sense.
Staff Training
Eau County Restorative Justice provides training to school staff, so your team has the tools needed for effective solutions. ECRJ serves as a partner in the schools' Positive Behavior and Interventions Support system (PBIS) by providing support or services for more complex Tier 2 and Tier 3 interventions, as well as Tier 1 foundational and instructional services. There are a variety of ways we can assist a school in adopting the change to restorative practices.
From informal conversations in the hallway to formal meetings that take much preparation and time, restorative responses use these three restorative principles: ownership or acknowledgement of choices made, empathy or awareness of the impact of behavior on other people, and reparation, or ways to make things right through positive actions.
There are five standard questions that help us begin a restorative conversation with a student: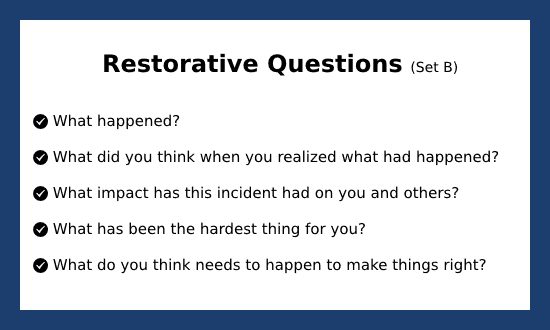 Used with permission of the International Institute for Restorative Practices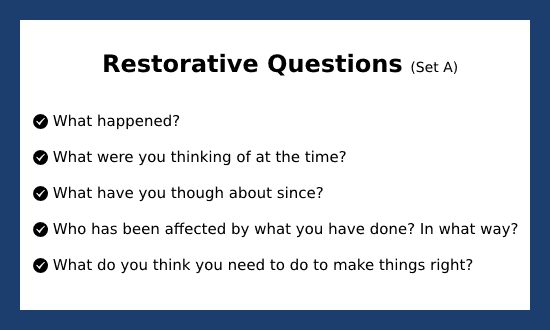 Used with permission of the International Institute for Restorative Practices
Restorative conferencing is used when a more formal process is required for a situation. Our school community outreach program provides additional services to help students with attendance and behavior issues.
Circles are another key practice used in schools for both prevention and intervention opportunities. Circles can be used to address conflict, teach, or learn a new concept, establish common agreements for behavior in a classroom or to just build trusting relationships and celebrate achievements.
Contact us to learn more.
The Impact
Restorative training in schools have demonstrated positive impacts, particularly with school safety, school climate and even academic achievement. While it typically takes several years for restorative programs to be fully adopted into a school culture, schools yield consistent, affirmative effects. Numerous program evaluations nationwide reveal positive outcomes, including:
Reductions in the number and intensity of fights and physical altercations
Fewer classroom disruptions and playground altercations
A reduction in suspensions and expulsions
Higher academic performance
An increased sense of safety in the school
A positive school climate for students and school staff
Healthier relationships among students and adults, including school relationships with the students' parents and guardians