Bay Area, see how Goodwill Starts with You
When you shop at or donate to Goodwill NCW, you are directly supporting programs that improve lives. With every purchase and donation, your support helps make a life-changing impact on neighbors in your community across the Bay Area.
Meet Joanna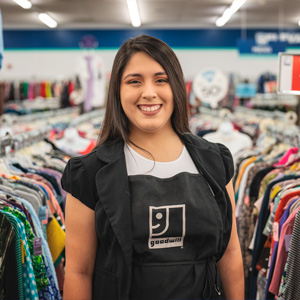 Joanna has worked at Green Bay East Goodwill store for the past two years. She earned her associate degree in graphic design and was looking to gain experience in the field but struggled with taking the first steps.
She worked with Goodwill NCW's Employment Navigator who serves the Green Bay area, and after overcoming several barriers, Joanna started a 12-week internship in Goodwill NCW's marketing department.
"I always set goals for myself to prove what I wanted to achieve but within these two years of working with Goodwill, I have grown and changed as a person," Joanna said. "Now I have high self-esteem about myself in that I can achieve and improve any goal."
During her internship, Joanna not only practiced design, but also gained confidence, and learned how to manage her time, become a self-advocate and complete projects with a deadline.
Bay Area Programs:
We provide pathways for people who are underserved, underrepresented or disadvantaged who have a goal of building job skills that lead to sustained employment and improved financial stability.
Pre-Employment Training
Work Skills
Mission Impact
Goodwill starts with YOU. One act – your support – springs into motion a Mission Impact felt by entire communities for generations to come.




Donations
Your 279,147 donations in the Bay Area – the equivalent of 11,165,880 lbs. – fueled job training and opportunities and diverted items out of the landfills.
Job Training
Program participants received 26,593 hours of on-the-job training in your local Bay Area Goodwill NCW stores, helping them gain core job skills.
You make Goodwill's Mission Impact possible. Thank you!