Bay Area, see how Goodwill Starts with You
When you shop at or donate to Goodwill NCW, you are directly supporting programs that improve lives. With every purchase and donation, your support helps make a life-changing impact on neighbors in your community across the Bay Area.
Meet Damian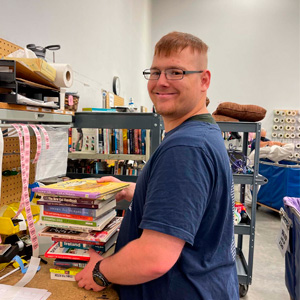 Damian, who is deaf, lives in a group home and relies on limited transportation to get to work. Goodwill NCW leaders did not hesitate to hire him explaining, "Damian came to us at the right time, and we can accommodate his schedule." He started working four-hour shifts three days a week as a ticketer and was immediately successful.
Fellow store team members use handwritten notes to Damian. It's been working so well that he has been elevated to working four, four-hour days a week with the goal of increasing his hours more.
Bay Area Programs:
We provide pathways for people who are underserved, underrepresented or disadvantaged who have a goal of building job skills that lead to sustained employment and improved financial stability.
Pre-Employment Training
Work Skills
Mission Impact
Goodwill starts with YOU. One act – your support – springs into motion a Mission Impact felt by entire communities for generations to come.




Donations
Your 279,147 donations in the Bay Area – the equivalent of 11,165,880 lbs. – fueled job training and opportunities and diverted items out of the landfills.
Job Training
Program participants received 26,593 hours of on-the-job training in your local Bay Area Goodwill NCW stores, helping them gain core job skills.
You make Goodwill's Mission Impact possible. Thank you!