Central Wisconsin, see how Goodwill Starts with You
When you shop at or donate to Goodwill NCW, you are directly supporting programs that improve lives. With every purchase and donation, your support helps make a life-changing impact on neighbors in your community across Central Wisconsin.
Meet Sheila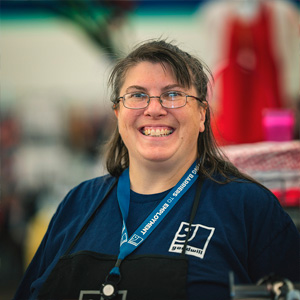 Sheila came to Goodwill NCW ready to learn new skills and take on new challenges.
Thanks to a partnership between the Wisconsin Rapids Goodwill store and Opportunity Development Centers, Sheila completed training to develop job skills. Her growth was tremendous. Her passion for learning extended to helping others master tasks too, which was inspiring for her leaders to see. After the program ended, Sheila was offered a position as a Goodwill team member.
"We are happy to have Sheila as a permanent part of the Goodwill team where she will be able continue to work on her skills and impact others," Jackie Clayton, Store Team Leader at Wisconsin Rapids Goodwill, said.
Central Wisconsin Programs:
We provide pathways for people who are underserved, underrepresented or disadvantaged who have a goal of building job skills that lead to sustained employment and improved financial stability.
Mission Impact
Goodwill starts with YOU. One act – your support – springs into motion a Mission Impact felt by entire communities for generations to come.




Donations
Your 177,403 donations in Central Wisconsin – the equivalent of 7,096,120 lbs. – fueled job training and opportunities and kept items out of the landfills.
Job Training
Program participants received 10,196 hours of on-the-job training in your local Central Wisconsin Goodwill NCW stores helping them gain core job skills.
You make Goodwill's Mission Impact possible. Thank you!