Chippewa Valley, see how Goodwill Starts with You
When you shop at or donate to Goodwill NCW, you are directly supporting programs that improve lives. With every purchase and donation, your support helps make a life-changing impact on neighbors in your community across the Chippewa Valley.
Meet Raynna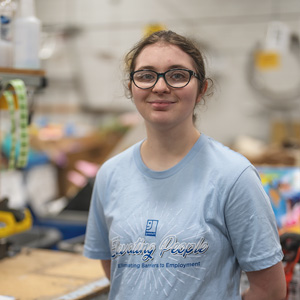 Raynna was not sure what her skills or job goals were before she gained work experience through Goodwill NCW's Learn to Earn and School-to-Work programs.
After she completed the programs, Raynna applied for a position at Eau Claire Goodwill store and was hired as a Production Specialist.
"It really is a good place to figure out what having a job is like and my confidence is better than it has ever been," Raynna said. "Working here has allowed me to feel like part of the community. I earn money to help pay bills at home and it gives me responsibility which feels good."
Chippewa Valley Programs:
We provide pathways for people who are underserved, underrepresented or disadvantaged who have a goal of building job skills that lead to sustained employment and improved financial stability.
Mission Impact
Goodwill starts with YOU. One act – your support – springs into motion a Mission Impact felt by entire communities for generations to come.




Donations
Your 158,829 donations in the Chippewa Valley – the equivalent of 6,353,160 lbs. – fueled job training and opportunities and diverted items out of the landfills.
Job Training
Program participants received 11,995 hours of on-the-job training in your local Chippewa Valley Goodwill NCW stores, helping them gain core job skills.
You make Goodwill's Mission Impact possible. Thank you!