Coulee Region, see how Goodwill Starts with You
When you shop at or donate to Goodwill NCW, you are directly supporting programs that improve lives. With every purchase and donation, your support helps make a life-changing impact on neighbors in your community across the Coulee Region.
Meet Cameron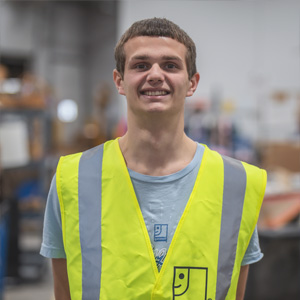 Cameron needs others to demonstrate tasks several times before he can confidently complete them on his own. He participated in Goodwill NCW's School-to-Work program, where he gained hands-on work experience at the La Crosse Goodwill store. The team welcomed Cameron's desire to learn, great work ethic and friendly smile. They provided training that fit his unique learning style.
After the program, Cameron was hired as a part-time donation attendant, then elevated to a full-time Production Specialist and is now training to become a runner.
"Cameron is very proud to work here and shows that in the job he does every day as he helps his team and shares his joy with others," Sheri Cartwright, Store Team Leader at Goodwill NCW said.
Coulee Region Programs:
We provide pathways for people who are underserved, underrepresented or disadvantaged who have a goal of building job skills that lead to sustained employment and improved financial stability.
Mission Impact
Goodwill starts with YOU. One act – your support – springs into motion a Mission Impact felt by entire communities for generations to come.




Donations
Your 159,130 donations in the Coulee Region – the equivalent of 6,401,920 lbs. – fueled job training and opportunities and kept items out of the landfills.
Job Training
Program participants received 11,765 hours of on-the-job training in your local Coulee Region Goodwill NCW stores helping them gain core job skills.
You make Goodwill's Mission Impact possible. Thank you!