North Central Wisconsin, see how Goodwill Starts with You
When you shop at or donate to Goodwill NCW, you are directly supporting programs that improve lives. With every purchase and donation, your support helps make a life-changing impact on neighbors in your community across North Central Wisconsin.
Meet Felicia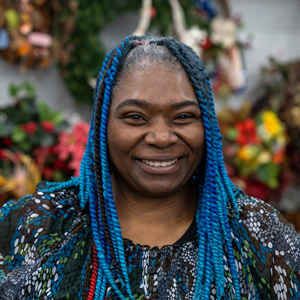 Felicia started her journey at Goodwill through a job training program in the early 1990s. When she moved to north central Wisconsin, she knew she wanted to apply to the Rhinelander Goodwill store because of her positive experience. She said her team has become like a supportive family.
"Everyone understands each other, and the communication with one another is amazing," Felicia said. "The way that you are treated here at Goodwill by the leadership team and peers is truly humbling."
Felicia has a goal of becoming a team leader but has been waiting for the right time in her life to take on that challenge. In the meantime, Goodwill NCW is helping her build skills needed for her continued growth.
North Central Wisconsin Programs:
We provide pathways for people who are underserved, underrepresented or disadvantaged who have a goal of building job skills that lead to sustained employment and improved financial stability.
Mission Impact
Goodwill starts with YOU. One act – your support – springs into motion a Mission Impact felt by entire communities for generations to come.




Donations
Your  170,732 donations in North Central Wisconsin – the equivalent of 6,829,280 lbs. – fueled job training and opportunities and kept items out of the landfills.
Job Training
Program participants received 8,113 hours of on-the-job training in your local North Central Wisconsin Goodwill NCW stores helping them gain core job skills.
You make Goodwill's Mission Impact possible. Thank you!