A little creativity and some sustainability motivation can go a long way in turning thrift-store treasures into must-have home décor. With secondhand finds you can decorate your home on a budget while styling your home in a one-of-a-kind way.
Modern farmhouse chic
Think about what's trendy now and try to recreate the look you love on Pinterest with vintage finds you can find secondhand. Farmhouse chic is hot, thanks to Joanna and Chip Gaines, and Sherrie from Restore Create Renovate says there are inexpensive finds waiting at thrift stores. Some of the items she shops for are white rectangular dishes with a lip for decorating, faux flowers, cream-colored lap throws, metal or wicker baskets, old bottles in a variety of shapes and colors, and rustic frames. With thrift-store finds, it's easy to create that mix-and-match look.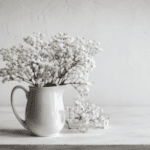 DIY upcycling
If you have some crafty genes and like to get wrapped up in easy projects, turn patterned vases and teapots into beautiful décor with some white spray paint. The Savvy Mamma, who is a farmhouse décor fan, turned a large, outdated thrift-store pitcher into a classic white one with the help of spray paint. She switches out the faux flowers to match the season. It's the perfect centerpiece!
Rolling cart
Not only are rolling carts practical and help with space constraints and organizing, they also are popular style additions. They are sought-after thrift-store treasures so if you find one, grab it! In three hours and for a total of $40, blogger Angela East, a self-proclaimed décor addict, turned a rolling cart from Goodwill into a glitzy metallic gold one complete with a glass top and a marbled shelf, thanks to adhesive contact paper. An upcycled rolling cart also could be used as a coffee bar or a decorative or serving piece.
Bohemian vibes
If you can't get enough of that boho look and want a statement piece for a wall, consider a basket wall vignette. Blogger Kelly from Live Laugh Rowe took a few of her own baskets and added some thrift-store rattan and wicker finds such as a plate charger and paper plate holder to create a six-piece collection to hang on her living room wall. "I did fall in love with this display," she said. "It's simple yet makes a statement at the same time. And better yet — it was super inexpensive to pull together."
Picture frames
Picture frames are one of the best items to buy at thrift stores, and they are always in abundance in every shape, size and style, whether simple or ornate. If the artwork featured in it isn't your style, replace it with your own such as a family picture, child's painting, dried flowers, book cover, architectural drawing, vintage print or pretty paper. Or paint the frame or a collection of frames with a simple coat of spray paint for a cohesive look or leave as-is and enjoy. Blogger Katie Holdefehr from Apartment Therapy was inspired by an idea from IKEA and gathered an assortment of frames in different shapes and sizes, removed the glass and the back and spray painted them in a uniform white. The collection becomes something spectacular when you add greenery to each frame and hang them to become a stunning display of wreath frames.