Host a Goodwill NCW Donation Drive.
Through your generous donations, we are creating pathways for people with disabilities and barriers to employment, empowering them to reach their full potential through skill building and the power of meaningful work. Thank you for making it happen!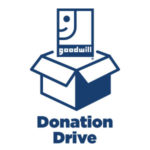 Here are ways to run a successful donation drive.
Goodwill NCW Donation Drive Toolkit FAQs