We know you love thrift as much as we do! That's why we pulled together some great insider thrift tips from the people who know best — our own team members.
Here are 50 secondhand shopping tips to help inspire you: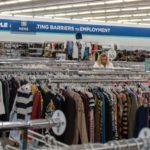 Everything is one of a kind so if you see something you like grab it. More than 80% of items sell in their first three weeks at full price so if you find something you like, don't wait to buy it because it might be gone. — Katie Van Gompel, vice president-retail and marketing
If something has a stain and doesn't work in its current form, get creative. Could a sweater be turned into handmade mittens? Would a vintage plaid skirt with an outdated style work as holiday pillows? Let do-it-yourself inspiration take over and never pass on a cool pattern, material or fabric. — Julie Gilkay, communications consultant
My favorite tip is to look at the tag of apparel and try to find a brand that is higher quality. Being that the apparel is used, I think I'll get more remaining life out of a piece of clothing with a better quality brand. — David Foertsch, training program manager

Look in different sizes than what you normally wear. I end up finding good clothes that are technically not my size but fit regardless. — November Behm, Mission Services administrative assistant
Check back often. We put new items on the store floor hourly. — Sarah Morgan, Stevens Point Retail Store and Training Center production team leader
Spend time digging in the shelfs. Great stuff gets pushed to the back. ­— Katrina Nagan, Darboy Retail Store and Training Center production team leader
You can never have enough tiny vases. Whenever I'm at Goodwill, I always see what they have for tiny vases and buy anything that's cute. Over the years, I've put together a collection. When I get a beautiful bouquet, I break it up and spread the joy around the house — a little sprig of fresh flowers by each sink, nightstand, end tables, entrances, etc. If I come across a single beautiful flower or small fragrant flowers growing in the spring or summer, I can cut it and enjoy what's in season in my home. — Sophie Leppanen, marketing consultant
Be proactive and never buy kids clothes at full price. If I see a pair of shoes or nice clothes that my kiddo will grow in to within a few months, I buy them and store them. — Cassy Sorensen, Plover Retail Store and Training Center store team leader
If it's too overwhelming to tackle the whole store at once or you're short on time, pick a type of product and go there first. If I have time afterward, I wander. — Kendl Behling, benefit and wellness specialist
Stuffies without hard eyes or beads makes great pet toys. — Mary Remter, business system analyst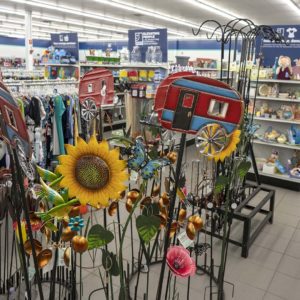 While shopping, I always have to do two laps around the whole store before I'm able to leave. That way I can double check I don't miss anything! — Keith Arendt, Outlet Store team leader
I always try something on because I often times think it will or won't fit, but if you don't try it on, you never know. — Laurie Collins, Human Resources director
Check out the new-goods items. My boys lose mittens like it's their full-time job. I do not feel as bad buying a few extra pair throughout the season as backups with Goodwill prices. — Stephanie Lyons, senior Human Resources business partner
Put everything you like in the cart to start, then filter through for the things you LOVE afterward. — Gabrielle Dorn, brand manager-retail
I love to buy books at a bargain at Goodwill for my mom in assisted living. She gives them to the library when she is done and the blessing is multiplied. — Nora Klepps, junior accountant
Make the trying-on process easier by wearing one layer of clothing. A simple shirt and pants will do. — Therese Bishop, Goodwill NCW fashionista
My greatest thrift tip is that if you can't find what you're looking for in our stores, check out shopgoodwill.com. Goodwill has an online auction site that you can bid on treasures from more than a hundred other Goodwill agencies. Do you want to shop your local Goodwill NCW auctions? You can! From the shopgoodwill.com homepage in the top right, click on advanced search. Toward the bottom of this page you will see sellers. Type Appleton in the box, and Goodwill NCW should pop up, click it. Then click on the search button below. Now you are looking at just items from your local Goodwill NCW. You can find that cool collectible and support your community at the same time. — Travis Nagle, assistant ecommerce team leader-collectibles
As a photographer, I often go to Goodwill for props for photo shoots like furniture, décor, clothing for the models. It helps me to create the scene I'm going for. — Giles La Rock, creative director
I always look for items to repurpose. I bought a table with a 2-inch thick glass top to use for a table using a Lamborghini tire as the base. — Josh Crowe, marketing specialist
I challenge myself to donate the same amount of articles of clothing that I purchase when thrifting. I keep a donate bag in my closet. It's an easy and affordable way to keep my closet and wardrobe fresh while supporting my thrifting habits! — Kayla Countney, director of Employment and Training Program
My favorite thrift tip is that you can find the best succulent containers at Goodwill. You can't beat the price, and the variety is so much better than any garden store. — Kim Anderson, senior HR business partner
I like to purchase used leather gloves for gardening. They are very good for wrestling with my roses — much better than any gardening gloves. Plus, I don't mind when I have to wash them because they are just work gloves. — Theresa Granados, E-commerce specialist
If you have a child who goes to day care, shop thrift for items they can leave there rather than taking back and forth between home and day care, like changes of clothing, winter outerwear and blankets.
Shop with friends, especially ones who think like you do. You can cover double the ground in the same amount of time.
Set aside time to thrift and bring headphones to entertain yourself. Listen to a podcast while thrifting.
If you like to rewatch movies, check out the DVD section. When you come across a title that brings up good memories, toss it in the cart. It's a great way to grow a collection of go-to and memorable movies with storylines that never seem to get old.
Shop at multiple stores. Don't limit yourself to the same retail store and training center every time. There are so many donations that come in and the variety is great when you shop at more than one store.
Team members get a discount. If you love shopping at Goodwill, you may want to consider a full- or part-time position in one of our retail stores and training centers.
Sweaters, sweatshirts and jackets are so expensive when you buy new. Find some big savings by shopping thrift specifically in those categories.
Children grow so quickly year to year that sometimes they don't have a chance to wear out their clothing before they have outgrown it. Winter coats can fall into that category. You will find some great-quality coats for a fraction of the cost.
Before you go thrifting, review your closet's inventory and filter out items you no longer wear for donation to the store since you are going there already. It's good thrift Karma plus you'll have a better idea of what you need and what you don't.
Ask yourself some questions before buying. Are the sleeves long enough? Is it a color you wear? Does it complement your skin tone or wash you out?
If something has a hole, that's not an automatic no. We thrift pros know how to get out our needle and thread and fix a hem or a hole in the armpit of a sweater. No one will be the wiser!
Goodwill features a color tag system, and each week puts one of the colors at 50% off. That means that each week a portion of the store is 50% off. If you don't know what the color tag of the week is, just ask or look around for the signs.
Goodwill NCW changes its color tag of the week on Sundays. Shopping early in the week gives you the best pick of the new color tag of the week merchandise.
Go early in the week, early in the day. Monday mornings are the most relaxed time to shop as there are fewer customers in the store, but there are still a ton of deals.
Used greeting cards with a glittery and beautiful scene can be used for DIY projects. Used Valentine's Day cards, specifically, can be turned into a greeting card bouquet with pipe cleaners and a thrifted vase. They last much longer than real flowers!
Join the rewards program and be rewarded with special perks and promotions. If you aren't a member, ask your cashier on how you can become one.
If you are trying out a new hobby or sport or fashion style and don't want to invest a lot of money, get new-to-you supplies at Goodwill. If you decide you don't like golfing, for example, you haven't invested much. If you determine you love it, you can take what you learned from your thrift clubs and accessories and upgrade.
Pressed for time but in a shopping mood? If you only can dedicate 30 minutes but you need your fix, don't comb the entire selection of apparel, for example. Instead, check out the category or categories you love most and stick to those, such as skirts or patterned tops. Focusing while shopping never was a bad thing and it could pay off with a big reward.
If you have such basics as a black dress, skirt and pants and a white jacket, you always will have something to match a statement piece you find.
You might not always find what you're looking for when you thrift, but don't let that deter you. Check in often and keep looking because you're bound to find it eventually, as well as some pretty great treasures in the meantime.
Shop secondhand for staples like jeans, a black skirt, gray cardigan sweater. It's an easy way to save on items you wear and replace often.
If you are a fan of milk glass, for example, know what you are looking for when shopping so you don't pick up an imitation. Know what you are getting before you spend the money.
If you have children in day care or elementary school, at the holidays, give the teachers a gift of barely used secondhand books that they can keep in their rooms or libraries to expand on their collection.
Shop new with tags to save on gifts for others. Just because they are at a secondhand shop doesn't mean they have been worn or used before.
Keep a running list of books you want to read. Each time you are at Goodwill, look at the book section for the titles on your list.
Put together cool themed gift baskets by shopping for baskets, tins and other gift containers as well as items to put in them. Your money will go farther, and you'll be able to provide more treats that way.
Know your fabrics and look at labels. If you see sought-after cashmere, silk and linen, snap them up.
Never pass up looking at the purses and bags sections. Find inexpensive totes, backpacks and laptop bags for all uses — to take to the beach or pool, to hold craft supplies, to hold toys for kids in the car, to carry groceries, to hold work necessities and much more.