Goodwill NCW provides pathways to individuals who are underserved, underrepresented and disadvantaged who have a goal of building skills that lead to sustained employment and improved financial stability.
Through job-skills training, we help individuals with barriers unlock their full potential and secure the life skills and workforce development they need to obtain and retain gainful employment to support themselves and their families. Job coaches are at the heart of this work and make a life-changing impact on the people we serve by developing and empowering them to retain employment, gain independence, further develop employment abilities and reach their goals.
Job coaches:
Train and teach both on-the-job skills and soft skills to meet employment standards.
Identify the participant's strengths, interests and needs to determine the most suitable training methods.
Serve as an advocate for participants.
Onboard participants at new places of employment and/or volunteer site.
Partner with case managers to create job aids to empower participants to reach individualized goals and grow more independent.
Ensure consistent support for participants and communicate with all involved to ensure skills instruction support meets the specific needs of each participant.
Jessica Schultz was introduced to Goodwill NCW in 2017 through the Wisconsin Division of Vocational Rehabilitation (DVR) after the devastating loss of her father, which intensified the depression and anxiety she had been dealing with most of her life and made her afraid to leave her apartment.
"Through my DVR counselor, I learned of Goodwill and the opportunities it provides," Jessica said. "My goal was to get an interview and work in a store in hopes that someday I would be able to help others with disabilities. The interview went so well I was offered the opportunity to start as a job coach. I truly didn't know how to do the job but knew I wanted to work with people who had disabilities. Before each time I worked, I would call a case manager to get support, have them build my confidence and talk me through what I needed to do. Over time, the individuals I was coaching made me see how much I can do because they could do so much."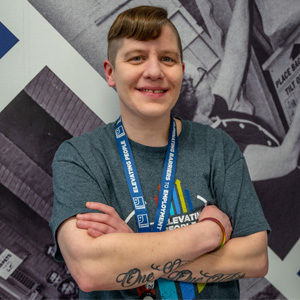 When Jessica first started, she only wanted to work in areas where there was limited contact with others, said Shelley Behling, Goodwill NCW Job Coach Team Leader. Through continuous support and developing coping strategies along the way, Jessica has gained the confidence to work at any location.
"During her time as a job coach, she has helped countless individuals learn to believe in themselves. But the magic is while teaching others, she has learned this about herself, too. Jessica has become more confident and has grown in ways she never thought possible. This job has given her the courage to attend college, explore outside of her home and develop relationships with people," Shelley said. "Jessica's passion for people is what makes her such a great role model for others. She has a can-do attitude that five years ago she never would have imagined was possible."
"I look at each individual I work with and remember that I am the one who can change their lives by teaching them a new skill because someone took the time to believe in me and teach me skills," Jessica said.