Another chapter has been written in the beloved story of George and Taylor.
George, who is blind, started coming to the La Crosse Goodwill in 2014 looking for some shopping assistance. Team member Taylor stepped up, not knowing the special relationship that would develop between the two of them — one that would carry on for eight years and counting. Taylor accompanies George, who uses a walking stick, throughout the store, helping him shop for what he needs.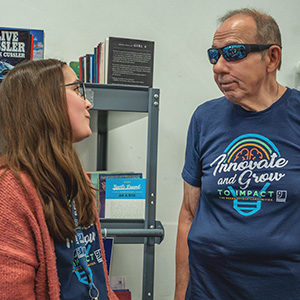 In 2021, Taylor approached then Store Team Leader Ruth Wampfler about how George was looking for a part-time job. Ruth met with George and brought him to the backroom to show him what a job ticketing would entail.
"I can do that," Ruth said George responded.
And just like that, George, who had been so embraced as a customer, had been taken in in a new and special way. He was now a team member.
George started out working five hours a week and now is up to 12 to 15 hours. He also brings with him a wealth of knowledge and shares his stories of hunting and fishing.
"His attitude is on fire all the time," Ruth said. "He kind of lightens up the room when he comes in because he has that great personality."
Taylor, who started at Goodwill more than 10 years ago through the School-to-Work program, which provides work experience for high school students with disabilities, and became a team member shortly after, has since been elevated, becoming a job coach and now a senior job coach.
George hasn't needed special accommodations. He uses his alarm to keep track of the time and is established at the first ticketing station. If others use it, they need to return it to exactly how it was before they started their shift. To help him find his way around areas he hadn't been to as a customer, there was Taylor once again, helping him find a path to the breakroom and the backroom.
"The team embraces him, and they help him out any time he needs help," Ruth said.