WISCONSIN – If you shop at the Tomah Goodwill store, you might have met Tad at the registers. Tad is a Veteran who served in Germany and Bosnia. Like many Veterans, since his return he has faced various challenges settling back into civilian life. Thanks to the U.S. Department of Veterans Affairs' (VA) partnership with Goodwill NCW, Tad is employed and has a renewed sense of hope for his future. Watch Tad's story.
"Goodwill NCW is committed to our mission of elevating people by eliminating barriers to employment. Tad's story is an inspirational example of how we help people build job skills that provide pathways to for them to sustain employment and improve their financial stability," Kayla Countney, Director of Programs and Partnerships at Goodwill NCW said.
Shortly after Tad moved back to Wisconsin in spring 2022, he suffered a major health setback. While he was hospitalized, his money, laptop and other belongings were stolen. Tad was isolated and had a hard time trusting others.
Tad connected with the U.S. Department of Veterans Affairs (VA), which partners with the Tomah Goodwill store to offer a paid 12-week training program. When he met with Goodwill NCW to explore the program, Tad expressed he wanted to gain skills to be employed again and rebuild his financial independence.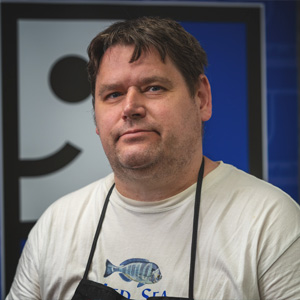 "Through our partnership with the Vocational Rehabilitation Services Program team at the Tomah VA Medical Center, we've provided a supportive work environment for Veterans to identify their current skills, build new skills and take the next steps in their employment journey," Kira Sullivan, Manager of Programs and Partnerships at Goodwill NCW said.
Tad received supportive services from the VA and job coaching from Goodwill NCW. During his training, he became skilled at interacting with customers. After he completed the program, Goodwill NCW offered him a position.
Over the past three years, 175 (self-disclosed) Veterans have been served by Goodwill NCW programs. In addition, in appreciation for their service, Goodwill NCW stores offer a 10% military discount every Wednesday to all veterans and active members of the military.