There are some sub-trends that are true gems, with staying power that can last a while. While some may have gravitated towards the Y2K return of low-rise denim and butterfly patch crop tops, others have dug into the elegance of minimalism, with a slightly nautical flair. Coastal Grandmother is the trend taking over the summer, something that will last into the fall for students, parents, and teachers alike.
You might be thinking to yourself, what is Coastal Grandmother? But chances are, you've already seen people walking down the street or out for drinks wearing a look that falls under this category. Part minimalist, part refined neutral and nautical wear. Coastal Grandmother brings together the best of this season's trends with an emphasis on a top layer of a collared shirt – a bonus for it being a vintage silk and cotton blend Brooks Brothers top – with a tighter fitting top or swimsuit underneath and light-colored slacks. Coastal Grandmother brings together the quality material of linen, silk, cotton and cashmere to create both a timeless and ageless look reminiscent of luxurious ladies who lunch… but on the coast.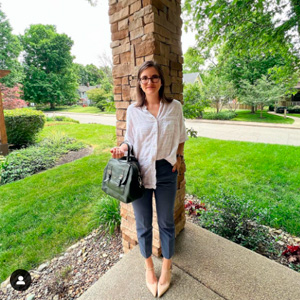 Photo credit: @forthedaintydays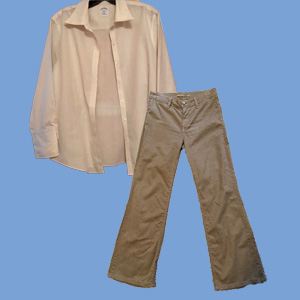 There are so many ways to pull off this look – and anyone can do it. To me, Coastal Grandmother is the perfect excuse to take a trip to your local Goodwill, where all of these outfit essentials can be found for just a fraction of retail value. By shopping at Goodwill NCW, not only are you making a more wallet-friendly choice, but you're also making a more sustainable choice by helping save quality clothes from going to landfills by giving them a new life and new home within your wardrobe. I've found so many amazing items and dream brands by shopping at Goodwill – including a pair of Vince silk and cotton blend wide-leg khaki pants for just $11 (compared to their retail value of $200+) which were the perfect addition to my Coastal Grandmother wardrobe!
To tap into your more refined Coastal Grandmother persona, check out some of the outfit inspiration sourced from my latest Goodwill shopping trips. Add a leather bag, and a pair of sandals, and the Coastal Grandmother outfit is complete!