Looking for a great way to repurpose thrifted flannel shirts or scarves? Why not use them to decorate your home, classroom or office. This is a fantastic no-sew project that can spruce up your home for any season of the year and a fun way to decorate your space! Hang it above a fireplace mantel or above a headboard in your bedroom.
DIY Flannel Rag Garland Project Steps
Supplies needed:
Multiple patterns of thrifted flannel shirts to be used for fabric
Scissors
Twine
Prep your fabric pieces by laying them flat out on a hard surface.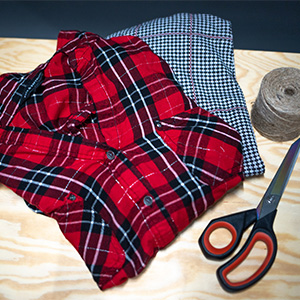 Cut the seams out of the thrifted garment you are using and trim off any uneven edges of the fabric.
Fold fabric to cut multiple strips at one time. Each fabric strip is about 2 inches wide and 14 inches long. This length will depend on how long you want your garland to hang.
Repeat the same process on all of the different thrifted fabric. You can use as many patterns as you would like to make your garland. Be sure to keep the strips of fabric the same length and width for consistency.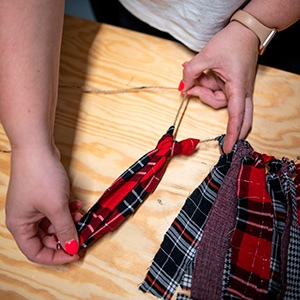 Measure and cut your twine to the length of your desired location.
Tie a loop at the ends of your twine for hanging.