DIY Rag Tie Wreath Project Steps
Create a colorful DIY rag tie wreath for any season or occasion with a few simple items and upcycled fabrics from Goodwill thrifting.
Supplies needed:
Thrifted fabrics
Scissors
Wire wreath frame
For this wreath, we shopped our local Goodwill NCW store for brightly colored fabrics in a variety of patterns. Shirts, pants and scarves are great starting materials.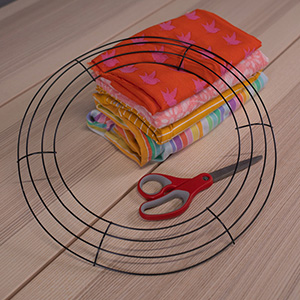 Using scissors, cut your fabric into strips, approximately 1 inch in width and 6 to 8 inches in length. For variety, you also could do larger and thicker strips.
Enjoy your colorful creation as a playful decoration in your home! This wreath is a great way to decorate your front door, home office, hallway or room. It's even a thoughtful gift-giving idea for holidays or special occasions!