As a Goodwill fashionista, I'm all about keeping up with what is current and hitting the runways for 2022, and one of the fashion trends is fringe.
No kidding! Let's ring in 2022 with this fashion prediction.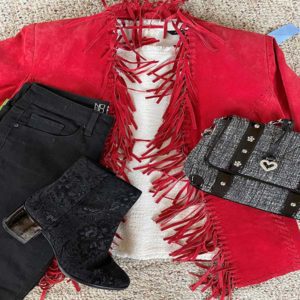 Fringe just has great movement to it, which makes it so much fun to wear. I chose a textured top for the first layer and kept the black pants and boots simple to call attention to the jacket as the main event and create an elongated and lean look. I passed on a necklace and kept my accessories to the black clutch and the boots I had purchased from a previous trip to Goodwill.
Go to GW and hunt for this fringe fashion trend, and watch for upcoming blogs for more runway trends to thrift.
Cost breakdown: Chico's red fringed jacket, $9.99; Banana Republic white top, $1.99; BOHO black high-rise skinny jeans, $5.99. Previously purchased black boots and purse from Goodwill.
Happy hunting!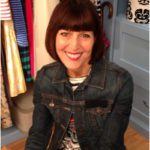 About Therese Bishop: Therese is Goodwill's fashionista and always is on the hunt for her next great treasure. She writes regularly about her fashion finds.