School supplies and clothes for the upcoming school year can add up quickly! According to the National Retail Federation, families plan to spend on average $864 per household on school shopping.
Shopping at Goodwill can help you maximize your budget to get the most for your hard-earned money. Why not simplify your back-to-school supply run and save money by shopping at your local Goodwill. You'll find back-to-school essentials at great prices and with every item you check off your list, not only are you supporting programs that help neighbors in your community, but you also are keeping items out of landfills. Check out these ways to maximize your school budget.
For teachers
Many teachers get a small yearly budget for classroom supplies, which makes Goodwill the perfect place to shop to get the most for your dollar. Here are a few items to help with the school year:
Containers
Toys and books
Arts and craft supplies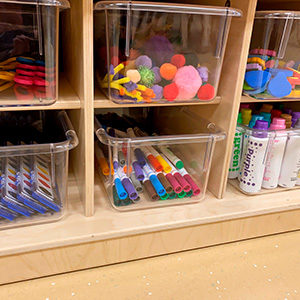 For students
Young generations are taking a big interest in protecting the planet, and sustainable shopping is becoming a large part of that. By shopping at Goodwill, you help divert items from the landfill. In fact, donors helped us divert 51.1 million pounds of donations from the landfill in 2021.
Here are a few items to look for when shopping:
Encourage individuality by letting your child put together unique outfits, blending current and vintage items for a one-of-a-kind style that is unique to them.
For parents
While most retail stores sell items for the current season, Goodwill NCW has clothes for every season! Find a pair of boots or a winter coat now and pay a fraction of the cost of new. Here are a few items to shop for when you're at Goodwill:
Shoes
Accessories
Sweaters
Let the school year and savings begin!