Winning looks often start with a winning outfit that grabs all the attention while secondary components like hairstyle, nail color and accessories shine from the shadows.
Then there are those special instances when you thrift a piece so unique and stunning that your outfit's primary purpose becomes gracefully backing out of the spotlight and letting your statement piece have its moment.
Here are 3 thrifted statement pieces from Goodwill NCW that we couldn't take our eyes off, plus a bold idea for guys. Read on for tips and tricks of how you can build a complete and balanced wardrobe around a special thrifted find so that all eyes are on your pretty piece.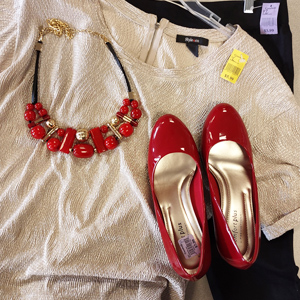 Red and retro
Chunky jewelry stepped right back in from the '80s. If you're about vintage, vibrance and volume, Goodwill NCW is the perfect place to find jewelry that spans the decades. Check out this red beaded necklace with gold and black details that we made pop by pairing it with:
A flowy, gold soft shimmery long tee — A neutral, light background made the red beads pop. The subtle gold shimmer complemented the gold detail in the necklace without competing with it.
Red pumps — We brought in a hint (actually a holler) of the statement piece's primary color into a different part of the outfit.
Black leggings — If you go loose on top, you can go tight on the bottom. Leggings were very fitting for this '80s' look, and the long tee offers coverage for a classy, complete look that can be worn to work just as easily as out on the town.
Total outfit: $20.96
Understated statement
How can pearls be so subtle and jaw-dropping at the same time? We were thrilled to find these freshwater pearl earrings from Chico's at Goodwill NCW for $9.99. Here's how we built an outfit around this thrifted statement piece:
Coral loose shirt — Nature's color palette is naturally beautiful, so what better way to highlight freshwater pearls than against a coral-colored backdrop of this gorgeous blend of nylon/viscose/wool that we thrifted for $2.99?
More pearls — We found an understated, dainty string of pearls to trace the neckline and complement our statement earrings in a way that brings cohesion without competition.
Total outfit: $23.96
Stroke of midnight
This long and sparkly necklace stopped us in our tracks with one of the most piercing and crowd-stopping shades of blue we've ever seen. Remember, you don't always have to wear thrifted jewelry like it's intended. For example, if you don't like wearing long necklaces, you could get creative and double it up to fit more like a neckband. Or you could draw attention to your waistline by using it like a belt. It's definitely the perfect thrifted statement piece for an evening occasion with:
Shimmery black long dress — We held the necklace up to many different colors of clothing to see which shade made its blue pop the most. A shimmery black dress was by far most effective.
Blue mascara — We easily could see this necklace being paired with a subtle blue mascara to line the eyes in the essence of the look.
Total outfit: $14.98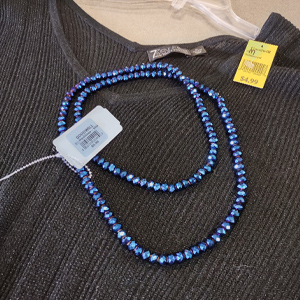 Power clash statement
Goodwill NCW offers one-of-a-kind men's clothing, shoes and bold patterns of shirts, scarves, vintage ties, bowties and suspenders. The fashion statement of power clashing is a great way to draw attention to two competing outfit focal points in a way that highlights both. It just works. Walk with Dcfashionfool for an overview of power clashing and how you can incorporate it into your daily.