July 4th is right around the corner, and it is time to start thinking about how you can celebrate in style. If you are prepping for the Fourth of July on a budget, don't worry! Your local Goodwill NCW is the perfect place to find everything you need to celebrate.
Here are five ways to help you get ready for the big day with finds from Goodwill: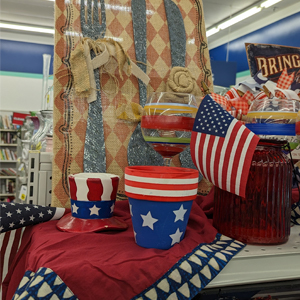 Pick up Party Supplies
Hosting a party does not have to break the bank. Goodwill has a wide selection of party supplies that you can use to create a fun and festive atmosphere. Look for patriotic-themed plates, cups, napkins, and tablecloths.
Decorate with DIY Projects
Check out these DIY projects that can help you decorate. Look for vases, jars, and other glassware that you can paint with red, white, blue, stripes or stars. You can find inexpensive picture frames that you can decorate with a patriotic theme.
Look for Red, White, and Blue Clothing
One of the best ways to show your patriotic spirit is by wearing red, white, and blue clothing. Your sure to find affordable pieces that fit the bill. Look for t-shirts, tank tops, shorts, and dresses in these colors to create a festive outfit. You can even get creative and use fabric paint or markers to add patriotic designs to your clothing.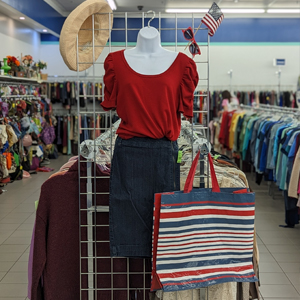 Outdoor Fun
If you are planning to spend time outdoors, check out our selection of affordable games. Look for Frisbees, balls, and other outdoor toys that you can use to entertain your guests. Create a comfortable seating area for your guests with outdoor furniture. Check out the wide selection of tables and chairs.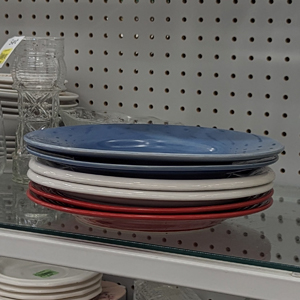 Don't Forget the Food
Don't forget to pick up affordable cookware and utensils to prepare your feast. Look for pots and pans you can use to cook up your favorite recipes. You can also find serving dishes and trays to display your food in a festive way.
With a little creativity, you can find everything you need for a fun and festive celebration. Head to your local Goodwill and start prepping for the best Fourth of July ever!