Goodwill starts with you, when you shop or donate to Goodwill NCW, you make a life-changing impact on someone's life. Your support directly funds programs and services such as Employment and Training Program, Skills to Build, Financial and Debt Solutions Services and Good Neighbor that provide individuals with job training and opportunities they wouldn't otherwise have that make a difference in their lives and in our communities.
Whether you support Goodwill because of our mission of Elevating People by Eliminating Barriers to Employment, enjoy the thrill of the hunt and the incredible values you find, are committed to keeping items out of the landfill or are a dedicated DIY enthusiast, you can feel good about the impact you make!
Meet Thess
Thess was ready to work again in a position where she was able to help others after experiencing the loss of her husband. Joining the Manitowoc Goodwill team was an opportunity that fit what she was in search of at the time.
Originally from the Philippines, working at Goodwill has helped Thess become fluent and more comfortable speaking English. She has enjoyed getting to know the Manitowoc community through her role, and she loves the familiarity she shares with some of the regular customers.
"We say hello and know each other by name," she said. "Our customers have giving hearts."
"Being part of a team where I feel valued and appreciated is nice," she said. "We all help each other out."
Thess has developed new skills and knows how to do many roles across the store. She can cashier, organize softlines, restock and set up displays. She enjoys working for an organization whose programs and proceeds go to a good cause and benefit people who need the support.
"Thess has shown us despite living with a barrier, it doesn't define what you're capable of," said Mandy, Production Team Leader.
Meet the neighbors in your community who experience the life-changing impact you make every time you shop and donate.
Fox Valley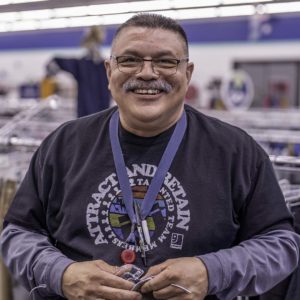 Meet Fernando
"I have gone through a rough time in my life," said Fernando, who started at the Outlet Store through a program and now is a leader at the Oshkosh West Goodwill. "You know you lose hope in life and you think nobody cares, but there is. There is a place."
Find a Fox Valley location and see local programs and impact.
Bay Area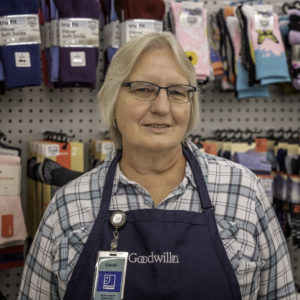 Meet Carol
When she isn't quilting, Carol enjoys working at the Manitowoc Goodwill and plans to be there until she fully retires. "Carol doesn't stop at good. She strives for the best no matter the task at hand," said Reba, Store Team Leader.
Find a Bay Area location and see local programs and impact.
Central Wisconsin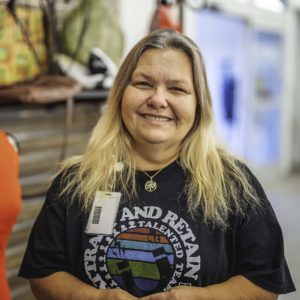 Meet Cyndi
"This is the perfect situation for me. I love this job. I love the family atmosphere and the diversity of the acceptance," said Cyndi, area team leader at the Plover Retail Store and Training Center, who has been with Goodwill NCW since June 2021.
Find a Central Wisconsin location and see local programs and impact.
Coulee Region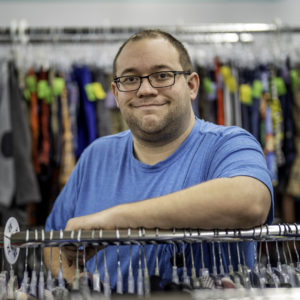 Meet Richard
"Goodwill stars with me by caring for people and teaching them how to improve themselves and how to grow," said Richard, Production Team Leader at the Tomah Retail Store and Training Cemter, who started in 2016 with Goodwill as a seasonal team member. "It has meant having a second family."
Find a Coulee Region location and see local programs and impact.
Chippewa Valley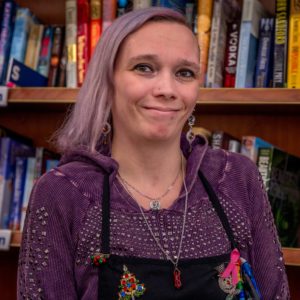 Meet Sarah
Working as part of the Lake Hallie Goodwill team has helped Sarah explore different areas of the store she might want to grow her career, and the job has provided stability for her and her daughter. "Sarah worked in production, and recently we found that she has such a knack for contributing on the store floor that we're hiring someone else to help in production so Sarah can be on the store floor all the time. She's so outgoing and pleasant," said Scott, Store Team Leader.
Find a Chippewa Valley location and see local programs and impact.
North Central Wisconsin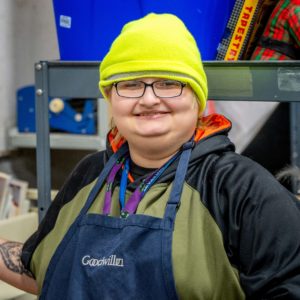 Meet Kat
Kat used to be very quiet and introverted. She used to just keep to herself, but has opened up and become more outgoing and friendly towards everybody. She tries to be the first person to welcome new team members and is always willing to jump in and help where she is needed. She is open to learning new things every day.
Find a North Central Wisconsin location and see local programs and impact.
You make an impact
Our programs serve individuals with barriers to employment to make a life-changing impact through job training, addressing financial literacy, promoting access to services, supporting community participation and more.
Your support makes it possible to provide opportunities to neighbors in your community, things like financial workshops and online financial counseling, the Skills to Build program, helping individuals improve their employability skills and increase their quality of life.
When you shop and donate, Goodwill starts with you.
81,174 hours of job-skills training
Program participants received essential on-the-job training within your local retail stores and training centers.
46.8 million lbs. diverted from landfills
Your donations gave a second life to used items keeping them out of landfills and fueling community programs.
Earned more than $408,000
Program participants were able to gain both valuable job skills training as well as feeling good about earning a paycheck.
More than $580,000 in local assistance
Through our GoodNeighbor program, we were able to provide free merchandise to people in need through our partner agencies.
· Discover how Goodwill starts with you ·
Impact numbers for program participants, Good Neighbor and sustainability are for 2020.