It's sweater weather! That means it's time to load up on thrifted sweaters for winter — the ultimate in coziness.
Like comfort food, sweaters are comfort wear for the winter. Count us among those who can't get enough. Our motto: Life is better in a sweater. Actually, life is better in a thrift-store sweater!
Turtleneck, crewneck, oversized, cardigan and duster sweaters along with ponchos, chunky knits and flannels all have a welcome place in our winter wardrobe.
Here's a look at our top sweater styles and thrift-store finds you'll love.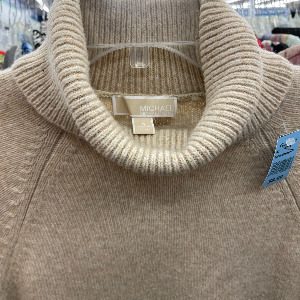 Pullover sweaters
Pullover, loose sweaters are made for stylish winter wear and keep you looking professional for those virtual meetings from home yet are perfect for crawling under a blanket, like this tan Michael Kors one for $8.99.
A fitted turtleneck style can add to the versatility. Wear it on its own or grab a cardigan to toss over it. Its flexibility is what makes the turtleneck sweater one of our top winter sweater styles! It's like one big hug.
Cardigans
Extend the life of your summer tees and tanks by wearing them underneath this winter must-have. Plus, form-fitting layers provide the perfect balance for the looser cardigan style. Another fun option is pairing a flannel shirt with a cardigan for a casual look when the day calls for comfy layers. This H&M cardigan can coordinate with so much with its cream color and specks of black, gray and orange. Plus, at $5.99 you can't beat the price!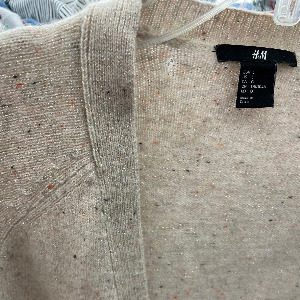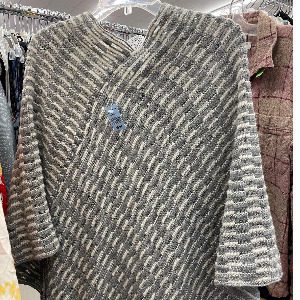 Ponchos and capes
Ponchos are still on trend this season, and they fit perfectly in our quest for winter fashion ideas that are trendy yet offer that lived-in, easy feeling. Part coat, part sweater, a poncho is the perfect piece for your winter wardrobe. Pair with leggings for that added comfort level. This gray and cream-colored poncho with fringe on the bottom and priced at $5.99 is super soft and ideal for days when the weather isn't so frightful.
Oversized sweaters
Oversized sweaters are an absolute essential and are having their on-trend moment. It's easy to see why with their cozy, lived-in feeling. To make the most of the oversized sweater style, pair with tighter jeans, leggings or pants to give it necessary balance and contrast. Accessorize with jewelry to give it a dressier look. We adore this cable-knit gray sweater for its comfy factor and also for featuring the 50% off color tag of the week, which brings it to $2.99. What's not to love!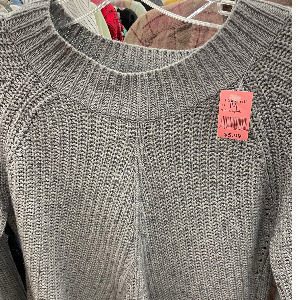 Whether you love thrifting for the thrill of the hunt, to feel good about helping others or to help keep items out of the landfills, you'll find 1,000s of new items daily.
Find your local Goodwill NCW store