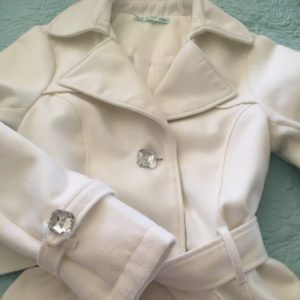 I have to admit that when I enter the golden gates of savings at my local Goodwill, I head straight back to the clearance section. The prices are reduced to pennies on the dollar.
In a recent visit, I headed over to the clearance section, and my eyes immediately fixated on a beautiful winter double-breasted coat. It had the lovely detail of these crystal-like buttons.
Before I put it in my cart, I checked it over for stains, loose buttons and tears. I found nothing wrong, and in the cart it went.
I can just hear my hubby saying, "Honey, another coat!?" But for the price of $1.99 I simply could not pass it up. I did spend a little on dry cleaning, but this coat will take me through the winter season. Let's face it; winter lasts until late April so all of this is justifiable in this purchase.
So, honey, I promise not to bring home another coat … at least, this season!
Goodwill has a great selection of coats, winter vests and even new hats and gloves. Shop GW and indulge in your favorite items. Is a beautiful coat on your list, even though you may not need another? Yes! You have my permission.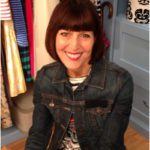 About Therese Bishop: Therese is Goodwill's fashionista and always is on the hunt for her next great treasure. She writes regularly about her fashion finds.