Disability Pride Month is celebrated in July, the month that the Americans with Disabilities Act (ADA) was first signed into law in 1990, prohibiting discrimination against those with disabilities.
Although the ADA has helped millions of Americans with disabilities achieve equal treatment, they often still face barriers. Goodwill NCW has been Eliminating Barriers to Employment for those with disabilities, as well as anyone who is seeking employment and is underserved, underrepresented or disadvantaged, since we were founded more than 50 years ago in north central Wisconsin.
Goodwill NCW's mission means individuals like Tina find an inclusive environment to thrive. As a person who uses a wheelchair, Tina has overcome many barriers, including people making assumptions about her capabilities. Thanks to opportunities to grow personally and professionally at Goodwill NCW, Tina is now teaching classes for various self-advocacy organizations in Wisconsin and helping others to live a full life.
"What I'm most proud of is the environment I work in and the people I work with—the fact that we all believe what we are working for here," said Tina. "From 2014 to now, I'm a totally different person—a person I'm proud of." Read Tina's full story.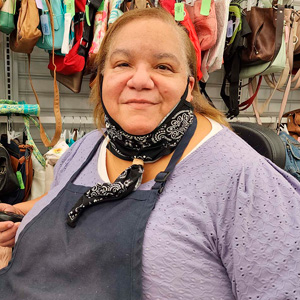 This Disability Pride Month, consider this: "Disability" may be broader than you think. People with disabilities are the largest minority group in the United States, representing all ages, races, ethnicities, religions, genders and socio-economic backgrounds. Disability can be physical or cognitive, common or rare, visible or invisible.
According to the Centers for Disease Control and Prevention (CDC), up to 1 in 4 adults in the United States have some type of disability.
Mobility (12.1%): Serious difficulty walking or climbing stairs
Cognition (12.8%): Serious difficulty concentrating, remembering or making decisions
Independent Living (7.2%): Difficulty doing errands alone
Hearing (6.1%): Deafness or serious difficulty hearing
Vision (4.8%): Blindness or serious difficulty seeing
Self-care (3.6%): Difficulty dressing or bathing
AmeriDisability describes Disability Pride as, "Accepting and honoring each person's uniqueness and seeing it as a natural and beautiful part of human diversity." That sentiment is at the heart of what Goodwill NCW does every day. To learn more about the programs Goodwill NCW offers to those facing barriers to employment, visit Pathways | Goodwill NCW.