The school year is just around the corner, and that means Goodwill NCW stores are getting ready to welcome high school students from approximately 50 schools across north central Wisconsin to build job skills.
In high school, youth are asked to prepare for their next steps in life and begin to gain financial independence by entering the workforce. For high school students with disabilities, it can be extra challenging to navigate these next steps; that's where Goodwill NCW's School-to-Work program bridges the gap between the classroom and working in the community.
This transition is top of mind for special education teachers like Mrs. Nusbaum at West De Pere High School whose job it is to prepare students with disabilities to live as independently as possible and pursue their career goals. She teaches an Applied Employability class, and Goodwill NCW's School-to-Work program brings her lessons into the real world for her students.
During the school year, Mrs. Nusbaum's class is welcomed weekly into the Goodwill Ashwaubenon store to gain hands-on work experience thanks to a partnership between Goodwill NCW and the local school district.
"In the class, we work on skills needed to be an employee, like arriving on time, having a good attitude, interacting with customers and progressing from simple one-step directions to more complex tasks. I could mimic those at school, but it would be artificial," Carissa Nusbaum, Special Education Teacher said. "I love that we have an actual work environment in the community where the students can learn the skills that they can take into other jobs."
For individuals like AJ and Taylor, these experiences are life changing.
AJ began his School-to-Work program with social anxiety that made him too shy to talk to others. The summer after high school, he had the courage to talk to the Store Team Leader, Rosa McMorrow, at Ashwaubenon Goodwill about an open position. He was hired and has been elevated to a Senior Production Specialist. Watch AJ's full story unfold and learn why Rosa believes, "He'd be a great leader."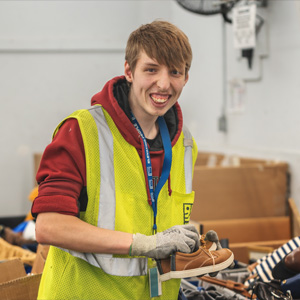 Taylor's journey also started in Goodwill NCW's School-to-Work program. Her pathway at Goodwill NCW led her from a program participant to a Senior Job Coach at the La Crosse Goodwill store to Goodwill Industries International's 2023 Achiever of the Year.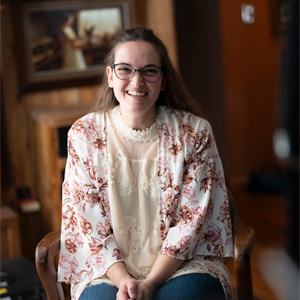 Taylor was honored with the international award in recognition of her journey overcoming learning challenges and empowering others to reach their full potential. She is confidently taking the next steps to reach her career goals, "I am not afraid to do anything anymore. Goodwill NCW helped me grow into the person I am today," Taylor said. Read more about Taylor's inspiring story.
To learn about Goodwill NCW's School-to-Work program and other ways we are Elevating People by Eliminating Barriers to Employment in our communities, visit Pathways | Goodwill NCW.