Matt's journey with Goodwill NCW began in 2015 at a point in his life that he describes as his lowest. He attended an open interview event, and soon after was hired as a part-time cashier at the Onalaska Goodwill.
"I was struggling with my mental health and new in recovery," Matt said. "I came to Goodwill at a crossroads in my life when I was questioning, 'What skills do I have? What can I bring to the table?' Goodwill was there for me when I needed a safe landing place. Being part of the Goodwill team has meant everything."
Matt was eager to learn various parts of the retail store operations, including apparel, domestics and hardlines. He then become a peer trainer, which inspired him to pursue an open retail leadership position in 2017.
During his time as a retail leader, Matt got to know and love the life-changing mission of Goodwill NCW even better. In his new role, he interacted with the team whose job is to support others' growth and development, which inspired him to explore a career pathway with the mission team.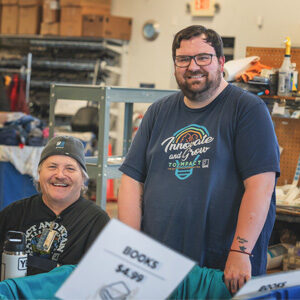 "I met Matt when he applied for a job on the mission team. We had an Employment Navigator position open in La Crosse and Onalaska and he was perfect for the job," Jennie Moore, Vice President of Programs and Partnerships said. "Early on in our time together, I saw his greatest growth opportunity as building confidence. I believe in him so much, so it was about helping him see what I see in him."
As an Employment Navigator, Matt serves community members and Goodwill NCW team members with their basic needs, skill building and personal development. He considers the whole person as he assists in their growth process. For instance, if someone cannot find stable housing, chances are they going to struggle to come to work with confidence. That's when Matt steps in to connect people to resources so they are in a place to move forward, grow and achieve great things.
Matt puts care for people in everything he does and has quickly emerged as a leader among his peers. He was recently elevated to Senior Employment Navigator.
"Having someone believe in you is invaluable. Now that I'm serving others on the mission team, it has given me more confidence because I figured out what I was meant to do," Matt said. "What is neat is that I get to put little pieces of what I experienced in my journey back into my work and instill belief and hope in others."