Spring is officially here! That means opening the windows and letting the fresh air flow. It is also the perfect time to plan for spring cleaning.
But wait! Don't throw away that 10-year-old vase because it is no longer your style. Instead, place it in a box to donate to your local Goodwill NCW store. By donating to Goodwill NCW, you give new life to secondhand treasures, while providing job training to people in your local community.
Break down your spring cleaning into 6 easy steps:
Step 1: Go through your closet and remove any clothing you no longer wear. Donate it to your local Goodwill NCW store. Turn your hangers backwards and set a reminder for six months from now. Every time you wear a piece, turn the hanger around. At the end of six months, you will know which pieces you have not touched. Chances are, if you did not wear it in that time frame, you can probably let it go.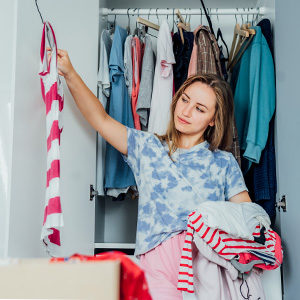 Step 2: Next time you are cooking dinner or washing the dishes, take a few minutes to go through your cabinets. Look for gadgets you do not reach for anymore and place them in a box.
Step 3: Next up is your seasonal holiday décor. The Halloween inflatable that you have not displayed in years? It may be time to make space for something new. Look through all seasonal items that you no longer use and place them in a box.
Step 4: Technology and entertainment changes fast. We all have tech toys, used computers and accessories lying around. While looking over your tech gear, check out your entertainment area. How many DVDs, CDs or video games do you have that you will never play again? Look at your bookshelf. If your books are collecting dust, add them to the donation box.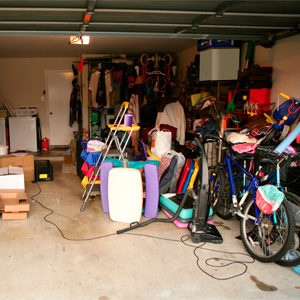 Step 5: With warmer weather around the corner, it is time to head to the garage. You can use the same rule you have for your closet. If you have not used the item in more than a year, it is time to say goodbye. If no one has ridden that bike hiding in the back of the garage for a few summers, it is okay to let it go. Also, grab any sporting equipment you no longer use.
Step 6: Congratulations! You are on the final stage of decluttering and organizing. Your house and garage look amazing, and you have decided what to keep. Now all that is left is to ask yourself some questions about the items in your donation box: Can the items still be used for their intended purposes? Are the items good quality and in working condition? If the answers are yes, consider donating to Goodwill NCW. Keep in mind that a charitable donation also qualifies as a tax deduction. Items that are broken or beyond repair should be properly disposed. Here is a list of items Goodwill is unable to accept as donations.
After you drop off your donations, stop in to grab a few items for your garden, baskets for celebrating spring or a flowy spring outfit to get in the mood for more sunshine and flowers coming soon!