Tad has a wealth of knowledge and a variety of life experiences. He is a Veteran who served in Germany and Bosnia. He speaks multiple languages, including Spanish and Russian. His master's degree is in geography, and he is great at remembering dates and details. To top it off, you can find Tad regularly singing karaoke in downtown Tomah.
Tad has also faced some challenges. When Tad was earning his degree, he was told he'd always have a job in his field, which has not been his experience. For a while, he lived with his father in South Dakota. During that period, he lost financial support from Social Security Disability because he was scheduled to work too many hours.
Shortly after Tad moved back to Wisconsin in spring 2022, he suffered a major health setback. While he was hospitalized, his money, laptop and other belongings were stolen. Tad was isolated and hesitant to talk to people. He had a hard time trusting.
Tad connected with the U.S. Department of Veterans Affairs (VA), which partners with the Tomah Goodwill store to offer a paid 12-week training program. When he met with Goodwill NCW to explore the program, Tad expressed he wanted to gain skills to be employed again and rebuild his financial independence.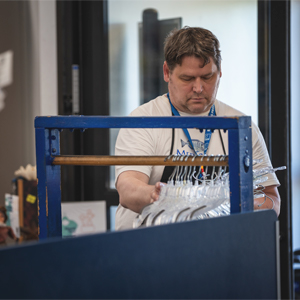 "Tad received supportive services from the VA and job coaching from Goodwill NCW. During his training, he became really good with the customers," Deb Cota-Farmer, Store Team Leader said. "After he completed the program, we offered him a part-time position."
Now, Tad has people surrounding him with support, helping him grow and restoring trust. He works at the registers and hangs clothes as a Customer Experience Specialist.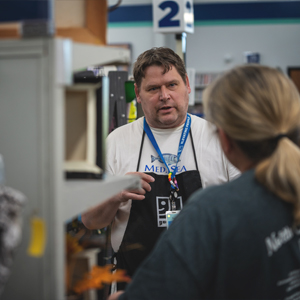 "I'm a people person, so I like making small talk with customers and getting their Good Points card number," Tad said.
Darrell Ferguson, Employment Navigator at Goodwill has worked with Tad to hone his communication skills. "Tad has a lot on his mind and a lot he wants to share. My job was to help him stay focused. Now, when he interacts with customers, his struggle becomes his strength. He's not afraid to engage. His growth has been impressive."
Tad's leaders say he is very thorough and accurate, which are excellent skills to have at the registers. Working at Goodwill NCW gives Tad a sense of belonging, "…just being part of a team where other people have barriers to employment."
When Tad reflects on where he is now, he is grateful. "I have Goodwill to thank, and the Tomah Housing Authority and HUD-VASH, the Housing and Urban Development's VA Supportive Housing program," Tad said.