Tina Wiley has always dreamed of being an advocate for people with disabilities.
As a person who uses a wheelchair, Tina has overcome many barriers, including people making assumptions about her capabilities. Thanks to opportunities to grow personally and professionally at Goodwill Industries of North Central Wisconsin (NCW), Tina is now helping others overcome hardships and live a full life.
Tina first joined the Goodwill family as a program participant in 2014 through the Wisconsin Department of Workforce Development Division of Vocational Rehabilitation and Opportunity Development Centers, Inc. (ODC). After building job skills in the Stevens Point store, she was hired as a team member at the Plover store in 2016.
In 2019, with financial support from Goodwill's Educational Assistance Policy, Tina took a class to explore a career path in mediation where she honed her ability to communicate with others and observe non-verbal cues. The skills she gained in the class paid off when People First Wisconsin, a statewide self-advocacy organization for people with disabilities, asked if she would teach a class. Tina agreed and started an exciting new journey.
"Tina's confidence has grown over time. She is a great example of someone who really believes in the mission. She has lived it and now wants to give back," said Matt Schultz, Goodwill NCW Career Navigator at the Plover and Stevens Point stores.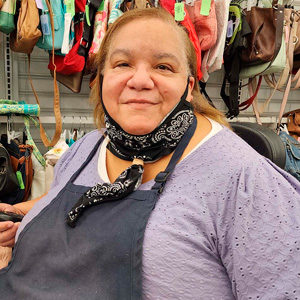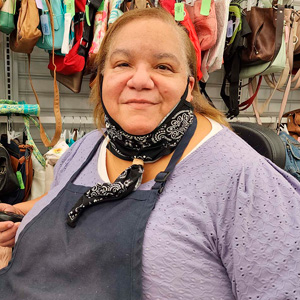 For the past year, Tina has been teaching classes for various self-advocacy organizations. Through this work Tina offers advice to people with disabilities, like talking through accommodations that would make employment possible and how to navigate emotional challenges during the workday.
Tina is excelling and her work is being acknowledged by her peers and organizations that work with her. ODC recently offered her a position as a Peer Support Leader, and she spoke at a self-advocacy conference in Wisconsin Dells in October 2022.
"What I'm most proud of is the environment I work in and the people I work with—the fact that we all believe what we are working for here," said Tina. "From 2014 to now, I'm a totally different person—a person I'm proud of."
Tina thrives at Goodwill. In her current role as Senior Production Specialist, Tina helps fuel the mission for others by ensuring production goals are met so Goodwill NCW shoppers find daily treasures.