Have you thought about making your own gifts for the holidays this year? Making gifts can save you time and money, help you explore new skills and allow you to share your passions and creativity with people you love.
Here are 4 homemade holiday gifts you can make using upcycled supplies from Goodwill NCW, including thrifted cookie cutters, fleeces, sweaters and mason jars.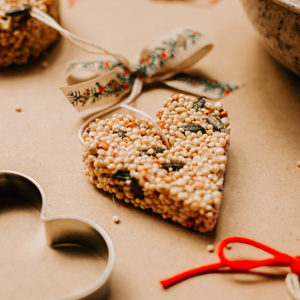 Birdseed Suet Ornaments
If you love playing in the kitchen, roll up your sleeves and make suet ornaments to help feed the birds through Wisconsin's winter months. First, make a slab of birdseed suet using this recipe from the Farmer's Almanac, then cut out various shapes and sizes of ornaments using thrifted cookie cutters.
Present your ornaments in a thrifted basket with an oversized bow. Not only will your gift help the birds; it will provide a lovely view out the window for the recipient all season long.
Cozy Sweater Mittens
Sweater mittens are all the rave these days. Isn't it cool you can take an existing, high-quality product like a thrifted 100% wool sweater and upcycle it into a pair of stylish, warm mittens?
We loved this pin from youmakeitsimple.com that shows how to arrange cutouts on a secondhand sweater to make a variety of matching items like mittens, a beanie cap, boot cuffs, heart hand warmers, slipper bottoms and baby balls. If you are feeling ambitious, get crafty and give a matching mitten, hat and boot cuff set as a gift this year.
Another idea: Use the same patterns from the pin above on secondhand apparel, like fleece pajama bottoms or a vest, to line your upcycled outerwear.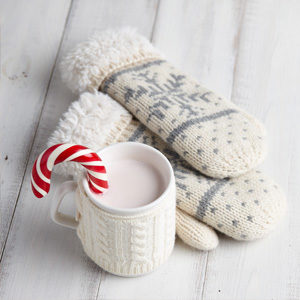 Sweet-Smelling Mason Jar Gifts
If you're excited to share the gift of scent with others, we have two homemade holiday gifts that you can present to those on your list in true thrifted mason jar fashion.
Whipped peppermint sugar scrub
There is nothing quite like the scent of peppermint in winter. Gift those on your list with a soothing peppermint aroma in their showers all winter long with this whipped peppermint sugar scrub from The Idea Room.
The secret ingredients? Peppermint essential oil delights, coconut oil hydrates the skin and sugar exfoliates for a smooth and supple finish. Happy skin equals happy holidays!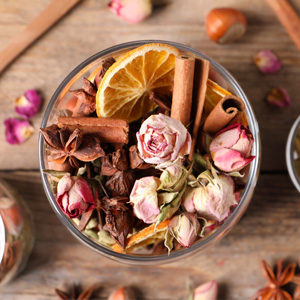 Simmer pot potpourri
Have you ever heard of simmer pot potpourri? It is truly an amazing thing and can fill a room with cozy notes of holiday aromas like cranberries, apples, cedar and pine. As it simmers, it adds moisture to a room and can help relieve sinuses from dry, winter air.
Pick out your favorite recipe from Country Living and collect the ingredients you need shortly before you plan on giving your gifts, as some of the fresh and natural ingredients that make this gift so special might expire. Divide the ingredients into single-use portions and pack them into thrifted wide-mouth mason jars for your recipients.
For ultimate presentation, consider topping your jars with homemade fabric jar toppers.
You've got this! If you try one of these projects, post about it on social and let us know how your gifts turn out. Cheers to a thrifty and creative holiday season!