MENASHA — Goodwill NCW is teaming up with the Wisconsin Timber Rattlers and Outagamie County Recycling & Solid Waste for a Community Donation Event on Earth Day, Friday, April 22.
Community members are invited to drop off their donations starting 4:30-6:30 p.m. at Fox Cities Stadium. Anyone who donates will receive a free, reusable bag. Donors who aren't staying for the game can drop off without paying the parking fee.
Members of the Goodwill NCW Human Resources Team will be on hand to talk with anyone interested in a career at Goodwill NCW.
The Timber Rattlers will be taking on the Quad Cities River Bandits. First pitch is scheduled for 6:40 p.m.

Goodwill NCW also has created a Donation Drive Toolkit to give community members the resources they need to hold donation drives at their place of employment, school or church; through a community service group; in their neighborhoods; or with family and friends. The donation drive toolkit includes a how-to guide, frequently asked questions, posters, graphics and templates for email and social posts.

These materials can be found at goodwillncw.org/donate/donation-drive-toolkit.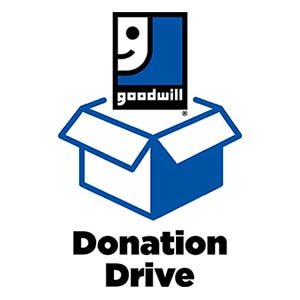 Practicing sustainability since 1902, Goodwill promotes the use of secondhand goods and responsible recycling and approaches sustainability from a people, planet and prosperity perspective. Our sustainability efforts extend to fashion by giving new life to secondhand items, to leadership by investing in the workforce and upscaling for shared prosperity, to communities by providing social and economic opportunities for all and to ambassadorship by promoting responsible consumption, recycling and landfill diversion.
Our mission of Elevating People by Eliminating Barriers to Employment starts with donations. By collecting donations that households no longer want or need, we keep on average 50-55 million pounds of materials out of our landfills each year and are able to provide job training to people with disabilities and other barriers to employment.
Post-retail sales to salvage vendors and recycling facilities divert 1,200 semi-trailers from the landfill yearly. That's enough to fill Lambeau Field in Green Bay, Wis., 12 times.
For more on our sustainability efforts, visit goodwillncw.org/shopping/sustainability.
About Goodwill NCW: Goodwill NCW is a nonprofit organization whose mission is Elevating People by Eliminating Barriers to Employment. We work to enhance people's dignity and quality of life by creating pathways for them to reach their full potential through skill building and the power of meaningful work. Goodwill NCW has been recognized by GuideStar with its Platinum Seal of Approval, the highest rating for a nonprofit organization. Visit goodwillncw.org.