Matthew's growth through programs leads to hiring with Goodwill. Matthew came to the Neenah Goodwill through the School-to-Work program, which provides valuable work experience for high school students with disabilities through a cooperative effort between Goodwill and area school districts. and once that temporary work experience ended, he returned in 2019 through the Pre-Employment Training Program, a program that takes place in a Goodwill store to help individuals with disabilities prepare to enter a competitive work environment.
In Neenah, they worked with Matthew on such concerns as hygiene and how to dress appropriately for work, and he took that feedback well.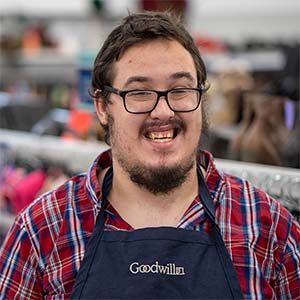 In 2020, Matthew was moving out of his parents' home and moving into a group home in Oshkosh and was able to transfer to the Oshkosh West Goodwill. His growth only continued.
"With the group home, he's getting more independence," said Erin Dey, Store Team Leader. The growth at home by doing tasks for himself such as making his own lunch for work and shopping for clothes with his caregivers, expanded to development opportunities at work.
Erin said Matthew knew merchandising well, and leaders felt like he could do more. Not only has he learned other job responsibilities, he does it with a smile.
"His goal was to get hired on," she said. "He wanted to be a team member."
In September 2021 that dream became a reality when he was hired on as a team member. Since then, they have continued to see amazing progress.
"He's just so happy," Erin said. "He works 20 hours a week, and he's really kind of flourishing in that role. The team likes having him around. He has such a positive attitude."