MENASHA — Goodwill NCW President and CEO Chris Hess was named to Goodwill Industries International's (GII) Executive Council of the Conference of Executives and will serve on Goodwill Industries International's Board of Directors.
Hess was elected to the position Feb. 9 during GII's Annual Meeting of the Conference of Executives (AMCOE) in Phoenix, where he had the honor of introducing keynote speaker, Ned Helms, who is the grandson of the Rev. Edgar J. Helms, the founder of Goodwill.
"I am honored to serve in this incredibly meaningful way and to join other Goodwill executives in helping lead an organization that every day lives out the Rev. Edgar J. Helms' timeless vision of providing a chance, not charity," Hess said. "It is a privilege to represent Goodwill NCW and the individuals and communities we serve on GII's Executive Council and the Board of Directors as together we strive for all members of our communities to achieve an abundance of living, as Helms challenged us more than 100 years ago."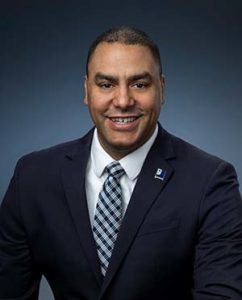 Hess became President and CEO of Goodwill NCW in March 2018. He will serve a three-year term that begins after the annual GII Delegate Assembly in July.
Goodwill Industries International is based in Rockville, Md. The Goodwill network includes 155 community-based, independent organizations in the United States and Canada with a presence in 12 other countries that work to enhance people's dignity and quality of life by strengthening their communities, eliminating their barriers to opportunity and helping them reach their full potential through learning and the power of work.
About Goodwill NCW: Goodwill NCW is a nonprofit organization whose mission is Elevating People by Eliminating Barriers to Employment. We work to enhance people's dignity and quality of life by creating pathways for them to reach their full potential through skill building and the power of meaningful work. Goodwill NCW has been recognized by GuideStar with its Platinum Seal of Approval, the highest rating for a nonprofit organization. Visit goodwillncw.org.