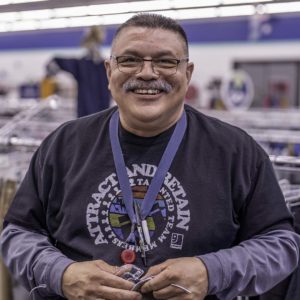 Fernando's experience with Goodwill NCW has come full circle.
When Fernando came to the Outlet Store in Appleton through a program that helped individuals re-entering society after incarceration, he was met by a team of caring people who not only taught him the skills he needed to be successful but also gave him a sense of worth and hope for a brighter tomorrow. He is now doing the same for others.
Fernando, who exemplifies Goodwill NCW's mission of Elevating People by Eliminating Barriers to Employment, was hired immediately as a team member upon competition of his Winnebago County re-entry program, was elevated to a leadership role at the Outlet and has since moved into leadership roles at the Oshkosh West Goodwill.
Through his roles, he is bringing the same nonjudgmental and positive attitude he was met with so he can give people with disabilities and other barriers to employment the encouragement and support they need to be successful.
"I have gone through a rough time in my life," Fernando said. "You know you lose hope in life and you think nobody cares, but there is. There is a place." Andrew Schleiss, Regional Team Leader, says Fernando is "aggressively positive," extremely outgoing, hardworking and a natural leader who never has had a bad day.
"The thing about Fernando, he's elevated within this organization so many times … and he pays it forward every day."