Fall is my favorite season. I love to see the colors change, the smell of pumpkin and apple pie and I adore cozy nights in. As the weather cools, I look forward to pulling my sweaters, jean jackets, and long sleeves forward in my closet; they are exactly the pieces I need for fall adventures!
To enhance my wardrobe seasonally, I like to head to my local Goodwill NCW. Fall is the time of year that I focus my attention on the store racks with colors like orange, brown, maroon, tan, and of course, neutrals. Accessories I'm on the hunt for this time of year include blanket scarves, comfy booties, and aesthetic hats that fit the fall vibe.
Pro tip: if you shop in a specific color palette, it makes it super easy to mix and match your wardrobe!
To give you some ideas for what to be on the lookout for during your next shopping trip, I styled 3 fall trends to thrift the season:
Sweater Weather
Of course, knit sweaters are a must this season (as they always are). I find sweaters with a high neck, or even a turtleneck, to be the coziest. Sweaters can be simply paired with jeans and booties to complete your outfit. I like to wear a belt with my jeans so I can easily French-tuck sweaters. This technique gives more shape to any outfit. Utilizing a French tuck can help you appear longer rather than boxy, and it can give your waist a nice emphasis. This is the kind of outfit that you can really wear anywhere. Whether you are at the office or heading to a fall market, a sweater will complement your day.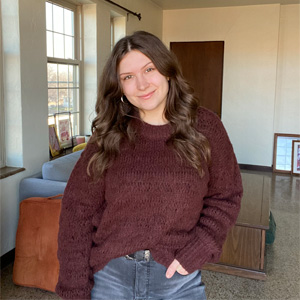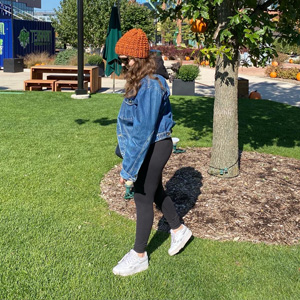 Pumpkin Picking
As soon as I found this orange knit beanie, it screamed fall and specifically pumpkin picking to me. So, I built an outfit around the statement hat! I paired a cozy black hoodie with relaxed black leggings, comfy tennies, and my go-to jean jacket. This outfit is perfect for any on-the-go fall activities. It's exactly the kind of thing that I'd wear pumpkin picking, on a hayride, or while sipping some apple cider.
PSL Date Look
Does anyone else look forward to their first Pumpkin Spice Latte of fall each year? Personally, I can't resist the sweet drink! So, I wanted to put a look together that would accompany me to a local cafe. I paired a gray cardigan with a simple black tank, ripped jeans, and short black heels. I have to say this is my favorite cardigan. I feel like the cardigan's longer length enhances the whole look, yet it also serves a cozy purpose. If I'm at home in this sweater, I can curl up in it on my couch while reading (remember what I said about cozy nights being my favorite!).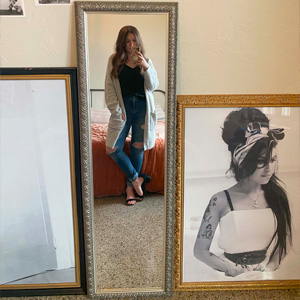 While fall is a season of change, I find it to be a season of comfort. I'm happy when I can find soft pieces and pretty knits on the thrift shop racks. I'm all about finding pieces that make me feel good and ready to take on the cool breeze of fall! I hope this post gave you an idea of what those pieces may be for you.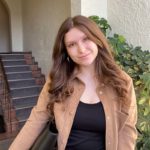 About Megan Roshak: A lifestyle blogger from Green Bay, Megan loves style, a good deal and supporting her local Goodwill. You can find her on Instagram @megan.roshak.