We can't forget about our furry friends wanting to join in on the fun of Halloween. Create your own one-of-a-kind costume at Goodwill NCW, the Original Halloween Headquarters, where you're sure to find something for every member of your family this Halloween season!
Here are just a few fun and easy costumes to make sure your pet pals rock Halloween in fur-tastic flair.
Pirate Pooch:
Find a small striped shirt or blouse for your dog.

Look for a small vest, jacket, or waistcoat that can be worn over the shirt.

Search for a tiny pirate hat, bandana or scarf to complete the pirate look.

If you're feeling crafty, you can add a toy sword or a stuffed parrot as an accessory.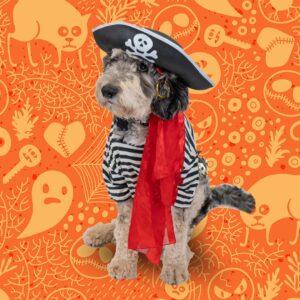 Fairy Fido:
S

earch for

a flowy, pastel-colored dress or tutu skirt.

Hunt for a small crown or tiara to place on your dog's head.

Add some fairy wings, which you can often find in the children's costume section.

For a little extra touch, add a wand or a magic potion bottle.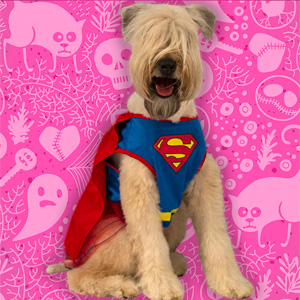 Superhero Pup:
Shop for

a brightly colored shirt or leotard.

Look for a cape in a matching color.

Create a superhero "S" using felt or fabric paint.
Remember to prioritize your dog's comfort and safety when creating these costumes. Make any necessary alterations to ensure that your furry friend can move freely and that nothing restricts their breathing or vision. And, of course, reward them with treats and praise for being the best-dressed pup on Halloween!
For other fun ideas, including hair and makeup tutorials, one-of-a-kind costumes and festive decorations, visit the Original Halloween Headquarters website.