While there's still plenty of summer left to enjoy, we've got three thrifty projects for back to school you can do with the kids to get them pumped up and ready for the coming school year.
Build an affirmation mirror
Help a child build their own affirmation mirror by bringing them to Goodwill NCW and sending them on a treasure hunt around the store to take pictures of cute and inspiring things they think could help them start each day on a positive note. Then, print their pictures, tape them to the sides of a secondhand mirror and position the mirror in their bedroom so they can see their reflection within a frame of positivity every morning before heading off to school.
Here are a few good areas of the store for fun pictures:
Ceramic miniatures, stuffed animals and fake flowers
Inspirational books, movies and favorite characters
Inspirational quotes on picture frames and wall art
Sayings on mugs and wooden home décor
Phrases on graphic tees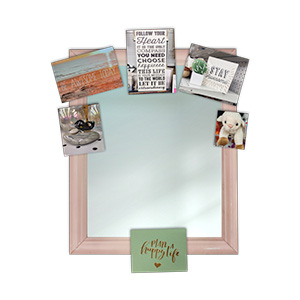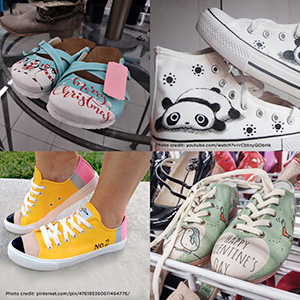 Decorate white sneakers
If you find pairs of white shoes that fit your kids at Goodwill NCW, put them in the cart. White shoes of any kind, but especially sneakers, make great canvases that can be decorated with acrylic paint to make one-of-a-kind footwear statements.
Check out AuntieTay's YouTube channel for some creative ways to decorate shoes with everything from animals to rainbows. Also, don't forget to explore how fun shoelaces, glitter spray, stencils and painters' tape can enhance your designs.
Reenvision personal space
Establishing a sense of personal space can benefit people of all ages. A room of one's own can help us express ourselves, teach responsibility and set healthy boundaries while providing a space to rest and recharge.
For students, a bedroom or dorm room needs to serve many important functions like being a place to study, sleep and entertain friends. That's why it can be a helpful exercise to work with your child in the second half of summer to reenvision their personal space and make tweaks that will help them thrive across these key areas of life during the school year.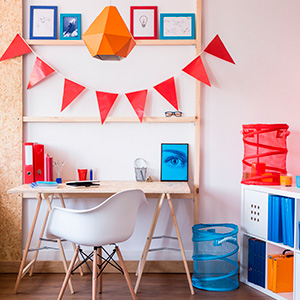 Catch-all bins, decorations, furniture, pictures, craft supplies and more — check out what you can find at Goodwill NCW to support their vision while saving money.