Is there anything more exciting than the anticipation of summer and warm-weather, easy, breezy styles? We think not. After an extended winter, we are greeting summer and all its fun fashion styles with open arms. It's time to lighten up! To celebrate the upcoming season, we're breaking down five must-have summer fashion trends to thrift. Be sure to shop your local Goodwill thrift store to give all these summer styles a try.
Pretty in pink
Summer is the time to play around with colors. Put the black and gray back in the closet for another day and pull out all the stops with bolder colors. While you can't go wrong with bright shades of orange, green and yellow, fuchsia is having its moment in the sun. According to refinery29, "pink will be the color of the year."
Mini skirts and party dresses
Celebrate good times, come on! "Every decade had its reasons for needing some serious time on the dance floor … but it might be argued that spending more than a year at home might be the worthiest cause for celebration," according to Harper's Bazaar, which says this summer calls for a party dress. Whether it's a neighborhood barbecue, graduation party, casual dinner on the rooftop deck, this summer calls for a celebratory dress or skirt — just keep the hem short.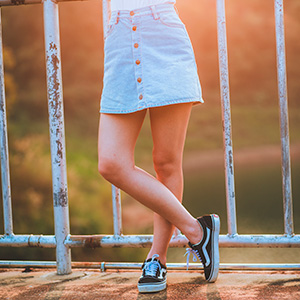 Fun with fringe
"Make the most of flippy skirts and dresses this season with full-on fringe goodness," according to Cosmopolitan's summer fashion trends. If even the thought of that is way out of your comfort zone, embrace the joyful trend in a more subdued way, like with your purse, shirt or earrings.
Playful polka-dots
The popularity of polka-dot prints never seems to go away, and the playful look is here once again for summer 2022. "Though there's been a case for basics in recent seasons, we can't deny the fun that comes with a bold polka-dot print," says Marie Claire's summer fashion trends report. "Try a dotted top peeking out under a blazer or go for the total look in an all-over polka-dot dress."
It's in the bag
Cue the oversized bag! Say goodbye to your small shoulder handbags or envelope purses and strap on an oversized bag that can haul it all. Whether it's a leather hobo bag or a large tote, you're winning with a large purse.