MENASHA – Goodwill NCW and Rawhide Youth Services are collaborating to help Rawhide's at-risk youth who struggle with mental health or behavioral challenges by offering a Career Development Class with a joint curriculum designed to help improve their chances of workplace readiness and success when they return to their communities.
"The boys on our residential campus in New London are part of a growing number of youth in our communities who have been struggling significantly with their mental health since the pandemic started," Rawhide President and CEO Alan Loux said. "Many kids graduating are finding it difficult to power through their anxiety and find work, which has been driving some of the nation's unemployment spikes. Goodwill and Rawhide wanted to come together as a team to help these youth overcome anxiety and feel confident to join the workforce after they complete their Rawhide program."
Rawhide offers mental and behavioral health support for the students and educational space at its fully accredited school, Starr Academy, located on Rawhide's New London campus. Goodwill provides an educator who specializes in career training and is also equipped to work with at-risk youth. Together the organizations provide this unique opportunity to the youth who need it most in our communities.
"Partnerships and collaborations with other organizations, such as Rawhide, are essential to advancing our mission of Elevating People by Eliminating Barriers to Employment and moving that life-changing work forward to reach as many individuals as we can," Goodwill NCW President and CEO Chris Hess said. "Community partnerships make our mission possible, and we are grateful to Rawhide for this opportunity to impact the lives of young adults and equip them with the skills they need to be successfully employed."
Rawhide's Job Training Program Manager, Jenny Schroth, helped create and implement this project.
"We feel truly blessed to have a partner to help us provide a trauma-informed career class for our at-risk youth," Schroth said. "Allowing opportunities like these to learn appropriate workplace expectations in a safe environment while also exploring their career interests, not only benefits the youth themselves, but also employers who will eventually hire them. Being a part of this value-added career training is a win-win situation for all."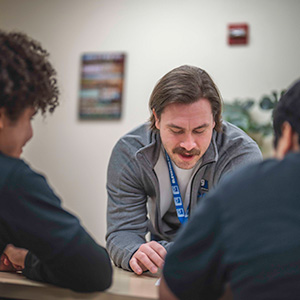 The course content is designed through a trauma-informed, therapeutic lens and teaches youth the soft skills needed to succeed in the workplace and prepare for their careers.
"Rawhide's unique position of supporting and providing youth second chances aligns perfectly with our mission," said David Foertsch, Goodwill NCW's Skills to Build Program Leader. "I am excited to be working together to help serve and elevate at-risk youth. Goodwill's partnership with Rawhide to create a Career Development Program empowers at-risk youth in their journey to gain and maintain meaningful community employment. We're thankful to the Division of Vocational Rehabilitation for helping fund this important training."