Charcuterie boards are popular these days and are often seen at parties. They're a fun way to serve appetizers or even a whole meal with a special theme. The traditional charcuterie board contains dried salami and ham, an assortment of cheese, olives, nuts, crackers, dried fruits, jams & honey. "Charcuterie" is a French word that describes a shop that sells cured pork products & other items that you see on a charcuterie board.
It's really fun to make a unique themed board using different items than the usual ones. You can customize it for your family and friends, and Goodwill NCW is the best place to find all the things you need, like boards, trays, and glassware, to make your themed charcuterie board extra special.
Themed Ideas:
Mediterranean Delights: Fill your board with an assortment of olives, feta cheese, hummus, pita bread, sun-dried tomatoes, artichoke hearts, roasted red peppers, and marinated vegetables.
Campfire Treats: Grab your favorite s'more ingredients. Don't forget the marshmallows!
Mexican Fiesta: Spice up your board with guacamole, salsa, tortilla chips, queso fresco, jalapeño peppers, chorizo, and various types of Mexican cheeses.
Breakfast Bonanza: Arrange a morning-inspired board with mini pancakes, waffles, muffins, yogurt, fresh fruit, honey, maple syrup, and granola.
Tropical Paradise: Transport your guests to the tropics with fresh tropical fruits like pineapple, mango, and kiwi, along with coconut chips, macadamia nuts, and tropical-flavored cheeses.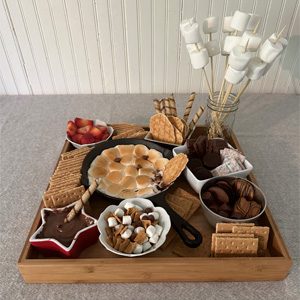 Italian Grazing: Showcase Italian flavors with prosciutto, mortadella, bruschetta, a variety of Italian cheeses, marinated olives, breadsticks, and grapes.
Cheese Lover's Dream: Celebrate the world of cheese by featuring a wide selection of cheeses, both soft and hard, accompanied by fruit preserves, honey, nuts, and bread.
Movie Night: Load up your board with your favorite gummies, popcorn, candies and pretzels.
Farm-to-Table Harvest: Embrace the freshness of seasonal produce, including a mix of fresh vegetables, fruits, artisanal cheeses and local jams.
Ice Cream Toppings: Customize your board with cherries, chocolate topping, caramel, cones, and waffle dishes.
Creating Your Themed Charcuterie Board: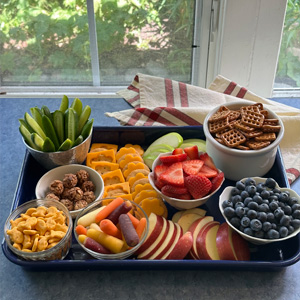 Step 1: Pick your theme for your special customized charcuterie board.
Step 2: Make your ingredient list for your board based on your chosen theme.
Step 3: Decide on what you would like to use – it could be a platter, tray, or a big wooden board. The size will depend on how much food you have.
Step 4: Think about the number of bowls, glassware or plates that will be needed to hold all the different ingredients.
Step 5: Shop for your ingredients at your local grocery store.
Step 6: Head to your local Goodwill NCW and look around for the perfect board, bowls, and glassware.
Pro Tip: Check the special display areas first, as they might have some unique items.
Then, explore all the aisles for inspiration. You might find hidden treasures left by others. In the houseware section, you'll find trays, platters, and wooden boards that you can use for your special board. And in the glassware aisle, you'll find plenty of bowls, glass jars, and small plates to hold all your delicious goodies.
Now for the fun part!
Step 1: Put each ingredient into the bowls and containers you picked out.
Step 2: Start placing the biggest bowls with food on the board first, and then arrange the smaller bowls around them.
Step 3: Fill up the remaining space on the board with the ingredients that don't need bowls.
Ta-da! Now you have your very own themed charcuterie board ready to impress your guests. Enjoy the delicious snacks and have a fantastic time sharing this special treat with your friends and family!