Ben was reluctant when he first thought about participating in an internship program called Project SEARCH, which prepares people with disabilities to enter the workforce. "I was nervous about stepping outside of my comfort zone," Ben said.
With his father's encouragement, Ben joined the program and rotated through three, 10-week internships at Goodwill NCW's Project SEARCH site at ThedaCare Regional Medical Center in Appleton.
"We launched Project SEARCH at ThedaCare in 2021 and are fully integrated in the hospital," Kalli Pethan, Manager of Funded Services at Goodwill NCW, said. "You can find interns immersed throughout all departments including Environmental Services, the Surgical Unit, the Post Anesthesia Care Unit, Laboratory Services and Facilities."
Over the nine-month program, Ben learned a variety of job skills in a classroom, gained hands-on experience and practiced transferrable skills within various departments.
Less than a year after he started, Ben describes Project SEARCH as a wonderful experience. "Looking back at it, I wish I would have instantly said yes," Ben said. "My confidence was holding me back from my goals. I was second-guessing myself and overthinking. I definitely felt like I could move mountains once my confidence was restored."
The Project SEARCH team helped Ben explore his job goals. Together, they discovered Ben was most fulfilled when working on a team with his hands and tools. He found a great match during his internship on the Facilities team.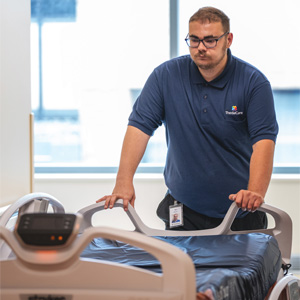 "In the beginning, we started with some of the easy things. We got him acclimated to where tools were located and how to find his way around the hospital," Scott Langman, Facilities Supervisor at ThedaCare, said. "He was a sponge. He absorbed the information well and asked questions when he needed to. It was not long, and he was off and working on his own."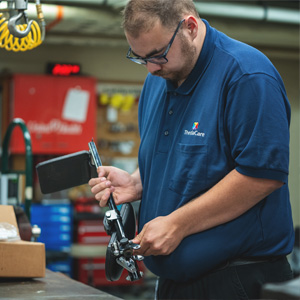 After Ben graduated from Project SEARCH, the ThedaCare Facilities team offered him a full-time mechanic position. Today, Ben focuses on preventative maintenance tasks to ensure safety codes are met, like testing eye wash stations and wheelchair brakes.
Ben has been employed in the past but feels, "…this job is definitely the one for me," and gives credit to the level of support provided by the program. He is also excited that his new job will allow him to replace his older vehicle.
"The goal of the Project SEARCH is for interns to gain transferable skills to find meaningful employment in the community, which aligns with Goodwill NCW's mission," Kalli said. "Ben's journey exemplifies what the program can do for individuals."
Ben is not the only Project SEARCH success story. Project SEARCH is an international program with 30 sites in Wisconsin and more than 700 sites worldwide. In collaboration with many community partners, Goodwill NCW leads two other Project SEARCH sites at Oshkosh Ascension NE Wisconsin Mercy Campus and Rhinelander Aspirus Hospital.
The ThedaCare Project SEARCH site is made possible thanks to these community partners: ThedaCare Appleton, Goodwill NCW, CESA 6, the Division of Vocational Rehabilitation (DVR), Lakeland Care and TMG IRIS.