First, head to your local Goodwill thrift store to pick out some solid-colored clothing pieces to embellish, like sweatshirts, jeans and tees. Any color will do; there's lots to choose from! Follow the steps below using embroidery to personalize thrifted clothes.
DIY Embroidery Project Steps
Embroidery is an easy and beautiful way to personalize your thrifted clothes or finds! Using just a few supplies, you can make any piece unique to your personal taste. Here's what you'll need to get started:
Clothing items
Thread in various colors
Embroidery hoop
Sewing needle
Scissors
Beads (optional)
Remove the Goodwill price tags from the clothing. Pick some thread in whatever colors you like and gather the rest of your supplies.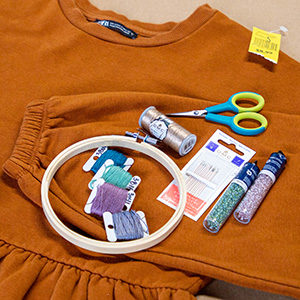 Use your embroidery hoop to plan where and what you'd like to embroider.
Thread your needle with your first color of thread.
Add some beads, if you'd like.
Tie off the back of the thread to make sure your masterpiece stays intact.