Looking for a fun way to spruce up your garden this season? Try creating your own DIY garden art with items sourced from your local Goodwill!
DIY Project Steps
Here are the items you'll need:
Plates in a variety of sizes, with fun patterns and designs
Glass candle holders
Small vases or salt and pepper shakers
Glass bond
Yard stakes (Feel free to paint these in bold colors if you like.)
Sort your items and plan layout
Arrange the pieces you thrifted into piles by size. Determine the layout of your décor. Start with a large plate on the bottom and stack another, smaller one on top. Use the glass candle holder to put in the center, similar to a flower shape.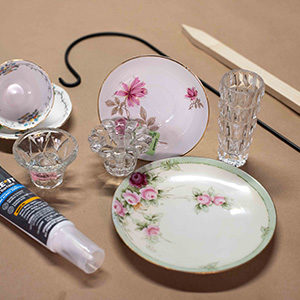 Prepare your bonding agent
Clean items according to the instructions of your bonding agent.
Start stacking
Apply the glass bond to the bottom of the middle plate. Center the top plate with the bottom plate and stick together. Apply glue to the bottom of the glass candle holder, which will serve as the middle of the flower. Center this on the plate stack. Use a small vase or glass to attach on the back side of your flower stack. This is where the art will hang on the garden stake. Once you have glued all items, allow to dry 48 hours.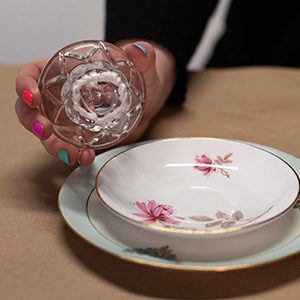 Put in garden
Once your pieces have dried, it's time to install your artwork. Make sure your stakes are stable in the ground to be able to support the weight of your plates.
Now you can take the time to sit back and enjoy your DIY garden art.