This DIY floral mirror is an easy way to take a thrifted mirror and turn it into something completely different and beautiful! This DIY tutorial will give your mirror an upgrade that gives it a boho and feminine look that's perfect for a girl's bedroom or entryway. You can choose any mirror found at Goodwill and repurpose it into a statement piece.
DIY Project Steps
Supplies needed:
Mirror thrifted from Goodwill
Spray paint (your choice of color)
Hot glue gun
Hot glue sticks
Faux flowers
Painter's tape
Drop cloth
Paper towel
Find a mirror and a variety of faux flowers for your DIY floral mirror. Be sure your items are wiped down and all stickers or price tags are removed.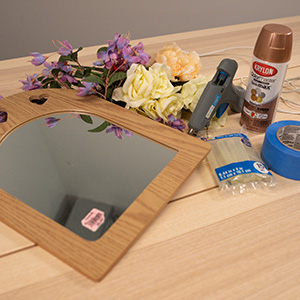 Cover your mirror with painter's tape. This will protect the mirror from getting hot glue or spray paint on it.
Plan your floral design ahead of time and arrange flowers onto the frame. Once you are happy with the layout, hot glue each flower individually onto mirror's frame.
Prepare your spray-painting space. Shake the spray paint can well and be sure this step is done in a well-ventilated area. Place a drop cloth or something similar down to protect the ground from spray paint.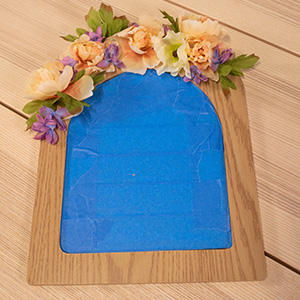 Spray paint your flowers and mirror frame. To avoid access paint dripping, keep the spray can about 12 inches away from your project. Cover the frame and the silk flowers with the spray paint.
Let your project dry and then peel off the painter's tape for the final reveal.