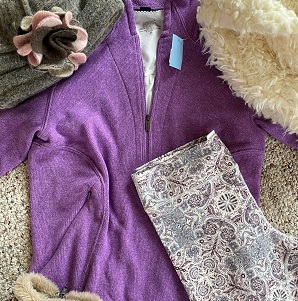 Are you in need of a winter refresh for the remaining days of the season? Well, there is no better place than Goodwill to find anything to make you warm and cozy for remaining days of winter.
Because I'm always cold, I'm always on the lookout for any items to take the chill away, whether it's in my house or outdoors. Let's check out my recent finds.
The light purple sweater is such a pretty color that has me dreaming of spring, and I love the big zippered pockets. This is where I keep my hand warmers. It's more tailored with a little cinch in the waist, which I like. The leggings have a heftier feel to them so they can tolerate the cold.
For extra warmth I have a Cuddl Duds base layer to hold in the heat plus the hat with the pink and gray rosettes. How cute is that! Toss in the substantial scarf and durable boots, and I'm set from head to toe.
I think this look is great for after skiing or skating, watching a movie or sitting around a fireplace toasting marshmallows.
Let's get through these final days of winter together, fashionistas! It will be OK; spring is just around the snowbank.
Shop GW for all of your Wisconsin weather needs.
Cost breakdown: Land's End sweater on clearance, $1.99; Cuddl Duds warm underlayer, $5.99; hat, $4.99; Ivory Ella leggings, $8.99; Maurices scarf, $4.99; and Baretraps boots, $12.99.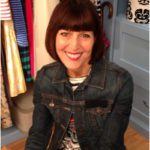 About Therese Bishop: Therese is Goodwill's fashionista and always is on the hunt for her next great treasure. She writes regularly about her fashion finds.