After months of freezing temperatures, snowy weather and bundling in layers before going outside, it's time for warmth and beaches. Buying your travel items from Goodwill can save you money and help you live more sustainably. Plus, after your travels, you might notice your shoes are worn, you've lost a piece of jewelry or left a charger behind. All the more reasons for shopping thrift! Here are 6 travel items to thrift to save money on your next trip.
Bags
If you can find compression bags or packing cubes, grab them; they save a lot of room. Compression bags allow you to squeeze more into your luggage, while packing cubes fit nicely in your luggage to keep items organized. Using a small bag for storing such goodies as toiletries, cosmetics and electronics saves space for other essentials. Starting at $3.99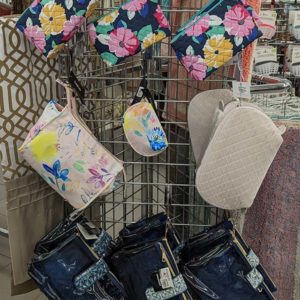 Clothing
Buying clothing from Goodwill for your travel makes perfect sense. Not only does it cut costs, but you can feel good knowing that you are extending the life of these items while promoting responsible consumption of fashion. A few must-haves include a pair of hybrid shorts that can be worn hiking and out for dinner along with swimwear and a beach towel. If you find yourself running out of room in your luggage on the way home, a thrifted towel can be left behind, knowing you didn't invest much in it.
Shoes can be bulky and take up valuable real estate in your suitcase. Find a comfortable pair for walking and another pair you can dress up or down. If you are traveling by plane to a warmer climate, swap out that second pair for sandals, and be sure to wear the pair that takes up the most space.
Starting at $2.99
Accessories
Accessories can simplify your travel plans and help them stay that way. Consider a phone charger, travel adapter, travel hair dryer, travel pillow, headphones and other compact items. Starting at $1.99
Books
Rather than buying an overpriced book at the airport, pick up a thrifted book or two while you're looking for other travel items. Books can keep you busy while flying, with that pesky layover and while enjoying the waves crashing on the shore. Plus, you won't have to worry if the battery on your phone dies! Starting at $1.99
Jewelry
You don't necessarily want to bring flashy jewelry and an expensive watch on vacation. It's safer to wear some cool costume jewelry instead. You'll still look great, but you won't be upset if you lose it or something happens to it. Starting at $2.99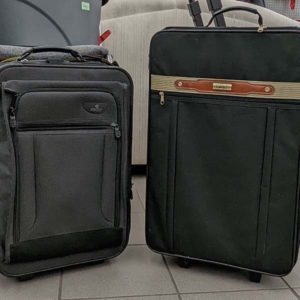 Luggage
Buying new luggage can cost hundreds of dollars. Instead, check your local Goodwill to find suitcases and carry-ons for a fraction of the cost of buying new. Then, make it your own by adding a luggage tag or crafty bling for immediate identification. Starting at $7.99
Going on vacation can be expensive. Getting any of these travel items to thrift will save you money so you have more for your actual vacation. If you've found that you spent too much on your recent adventure and want to save up for that next trip, check out our financial workshops. More reasons to feel good about shopping Goodwill and supporting our mission of Elevating People by Eliminating Barriers to Employment!