One of the nicest tokens of appreciation that I have ever received was a candle wrapped in an upcycled scarf from Goodwill NCW. There was no paper or tape involved and the vessel the gift was wrapped in was completely reusable. Some of the most thoughtful gifts are those that don't cost much but show the recipient how well you really know them. Goodwill NCW is the perfect place to find something for everyone!
On my regular trips to Goodwill NCW, my first stop is the $1.99 accessories section where I have found some beautiful scarves. I often find myself buying scarves for future gifts for family and friends; you can always find a pattern that matches unique styles. I tend to sift through the eras with 1950's silk polka dots, the 1960's colorful mod geometric patterns or fun and retro colorful designs from the 1970s.
Step 1: Find your scarf in the accessories section that matches the personality of the recipient.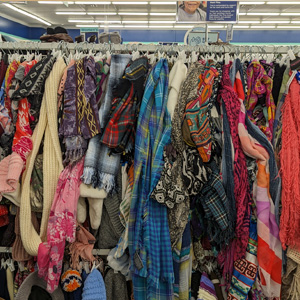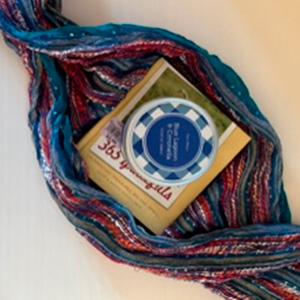 Step 2: Wash it on a gentle cycle and let it air dry. Use a low setting iron or light steam if needed.
Step 3: Lay your scarf on a flat surface and set a book or a square piece of cardboard in the center.
Step 4: Set the candle or gift item on top of the center square. Grab the two ends and cross them over the center and tie one knot. Tuck in the sides of the scarf to cover the gift. Grab the two ends, tie another knot and ta da, your gift is ready to give!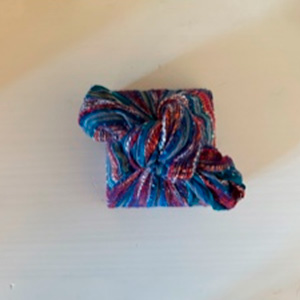 Step 5: Gift your present and prepare to be hugged by the recipient.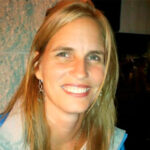 About Jen: Jen is a freelance set stylist, with three kids, a husband and two springer spaniels. When she's not thrifting, she enjoys traveling and spending time with family. Her love of thrifting started after she graduated college as a special education teacher and used merchandise from Goodwill NCW to fill her classroom with books, games and furniture. Since then, her passion for shopping secondhand has grown, bringing her joy, sparking her creativity and bringing forward nostalgic and warm memories from her past.