A dedicated Goodwill shopper's treasure and unexpected find hits close to home and is an especially meaningful one for its grateful owner.
Christine Pierce — who you could say is in the reunion business — shops the Rib Mountain Goodwill several times a week for her online resale shop, reuniting people with vintage items that they once loved during their childhood or feel a sentimental connection to. While she was recently shopping the boutique section, she came across a framed pen and ink drawing of a house.
There was an address written on the drawing, and it grabbed her attention when she saw that it said Hamilton Street. "Otherwise, I wouldn't have recognized the house. It had the street name on it, and I wondered if that was the house Holly grew up in."
Holly Goessl and Christine met 18 months ago through the Elks organization — where they both serve as elected officers — but they had a much earlier connection that would play a key role in this reunion. Christine has renovated buildings throughout Wausau, including one in the early 1990s that was about a block away from Holly's childhood home on the 600 block of Hamilton. The house Christine was renovating was in the 700 block.
Long after she moved out of the neighborhood, Holly's childhood Victorian home was sold to the church next door. The fire department conducted a practice burn on the house, and the space where the house once stood is now a parking lot.
"That's very sad to me," Christine said. "Her childhood home was burned down and is now a parking lot. Her childhood home had a tragic ending."
Once she saw the address on the drawing, she texted Holly, and when Holly texted back, confirming the house number, Christine started to scream.
"When she texted back her house number, I was so excited," she said. "It's one of those little God winks."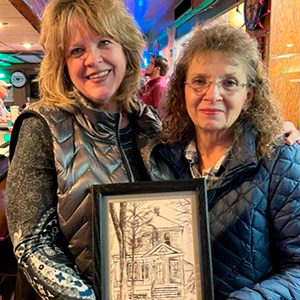 That was on a Wednesday, and the two would see each other in person the next day for an Elks Lodge meeting. When Christine arrived, she found Holly's husband and showed him the picture. Knowing how emotional Holly's reaction would be to the drawing, he suggested waiting until after the meeting to show her. Until that day, all Holly had left of the home she grew up in are memories and a keepsake brick from the fireplace.
"It was a joyous moment to have a little piece of my history back," said Holly, who was filled with shock, joy and gratitude when she saw the drawing and immediately broke down in tears. "It just felt like everything wasn't lost. There was something there yet. It was a very special gift."
It was a gift made even more special because the other significant place that held meaning and memories for Holly — her family's cottage — previously had been destroyed in a fire set by an arsonist.
"It was very hard for that to be gone," she said.
And while she has possessions and photos from inside of the house and cottage, she doesn't have photos of them on the outside.
"They couldn't believe the chances of this turning up and ending up in the hands of someone who actually lived in the home," Store Team Leader Jerry Melvin said, who also is a member of the Elks. "It's a great story of how one person's donation is another person's treasure."
And Christine knows all about treasures.
Through the online business she started in 2014 with her mom a few years before she died, Christine understands the emotional ties we have with former beloved belongings that can stir up a fond memory or remind us of our youth or were part of the home we grew up in.
"It's just wonderful to have that little piece back," said Holly, who has the drawing hanging in her home but hasn't settled on its permanent spot yet. "The whole thing is crazy. I do believe that when things are supposed to come to you, they do."
"That's why I continue to do what I do," Christine said. "I just call this one more happy reunion."