'Tis the season to bundle up and get cozy by shopping at Goodwill NCW. With layers and warm accessories, you can beat the dropping temps while still looking stylish. Add sweaters, flannels, jackets, boots, and hats to your thrift shopping list – In this blog, I'll share how I'm using those pieces to style outfits for fall to winter adventures.
Gameday
Personally, I'm cheering for the Packers, but you can recreate this look for whichever team you'd like. All you need is a graphic t-shirt to represent your team of choice and a flannel that features your team colors. Pair those pieces with a denim jacket, a pair of jeans (or leggings), and a pair of boots. Now, you're ready for game day! If it's extra chilly outside, accessorize with some more team-themed apparel like a hat and a scarf.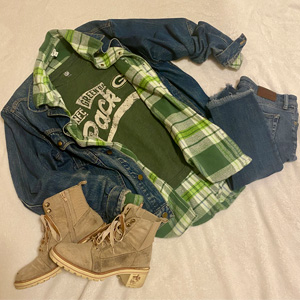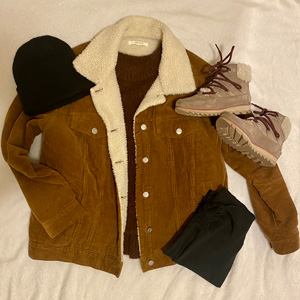 Hitting the Trails
Do you love hiking and adventures? If so, this look is for you! I paired a cozy sweater with some leggings, a wool-lined jacket, wool-lined booties, and a simple beanie. To be even more weatherproof, I'd add long-sleeve layers underneath the sweater and maybe even double up the leggings.
Date Night
It may seem counterintuitive to sport a dress when trying to keep warm, but there's a solution! Throw some leggings underneath your little black dress to keep cozy (bonus points if they are fleece-lined). Also, pair your dress with taller boots. I love this faux-fur pair that I scored while thrifting, they are the perfect statement piece for the season! Don't forget a long jacket too!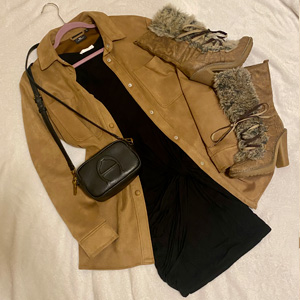 I hope these outfits inspire some variety during a time when dressing for the weather can feel repetitive. Have fun layering with different colors and textures to break the monotony of just wearing sweaters! And, remember that cooler weather means more accessories to utilize like hats, scarves, and gloves. Let's appreciate this season and all the style that comes with it!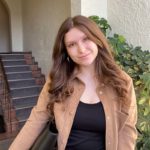 About Megan Roshak: A lifestyle blogger from Green Bay, Megan loves style, a good deal and supporting her local Goodwill. You can find her on Instagram @megan.roshak.